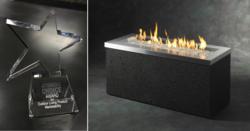 A modern fire pit so unique, it catches the eye of the hearth industries leaders.
Minneapolis, MN (PRWEB) March 09, 2012
More than 5,000 Hearth, Patio and Barbecue retailers and professionals attended the International HPBExpo in Atlanta last week where many innovative new products were on display. The attendees voted for their favorite new products in the show (26 products were listed as voting options). This year's big winner of the cherished "Attendees Choice Award" was The Key Largo Fire Pit, made by the Outdoor Greatroom Company.
A showcase of fire, the Key Largo fire pit features a glowing fire that dances atop a bed of fire glass. The focal point of the design is a striking 12" X 42" stainless steel Crystal Fire burner. The design is clean, linear and modern. Its stainless steel burner produces up to 80,000 BTU's of energy. It can store a liquid propane tank underneath or can be hard piped for natural gas. The flame height can be adjusted to taste and the electrical ignitor makes starting safe and easy. The exterior is a durable stucco finish. The new 42" long stainless steel burner will be added to a line of Crystal Fire Burners that include round, rectangular and square. All the burners can be used to make custom fire pits.
The Outdoor Greatroom Company designs, manufacturers and sells a full line of outdoor UL listed gas burners, fire pits, fire pit tables and table top models, many of which incorporate proprietary technology. UL testing is done on all fire products to make each unit performs to high safety and performance requirements.
About The Outdoor Greatroom Company
Founded by industry veteran Dan Shimek, co-founder of Heat-n-Glo fireplaces, The Outdoor Greatroom Company manufactures unique, upscale products for outdoor living and entertaining spaces including pergolas, outdoor kitchens, fire pits, fire pit tables, grills (gas and electric), fireplaces, outdoor patio furniture, outdoor lighting, heating and accessories. For more information, call 866-303-4028 or visit OutdoorRooms.com.