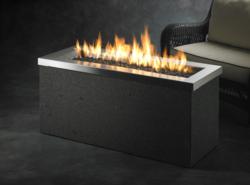 Modern Key Largo Gas Fire Pit Table Available Now!
GasFirePitTables.com
Minneapolis, MN (PRWEB) February 09, 2012
Outdoor fire pit tables add a warm, cozy glow to any outdoor space. The new Key Largo™ Gas Fire Pit Table is one of more than 30 finished gas fire pits manufactured by The Outdoor GreatRoom Company (OGC) in Eagan, Minnesota. With it's elegant, modern design and black stucco finish, this product brings a wow-factor to the outdoor room. The Key Largo's uniquely designed stainless steel burner unit runs on LP or natural gas and produces up to 80,000 BTUs - providing an excellent heat source. The linear flame dances above shimmering glass fire gems, available in a variety of color options, comes standard with product in onyx.
Fire Pit dimensions: 22 1/4" (height) x 48" (width) x 19 5/8" (depth)
Key Largo™ Gas Fire Pit Table Features

Modern, linear burner design
CF1242 stainless steel burner produces up to 80,000 BTUs
Safety tested and UL listed
Variable flame control
Runs on LP or natural gas fuel
Electronic ignition system
Exterior grade frame & stucco finish
Easy set-up and assembly – less than 30 minutes
Glass fire gems add sparkle and ambiance
Stores 20 lb. LP tank in base
Fabric cover available
All gas fire pit burner units manufactured by The Outdoor GreatRoom Company come with an easy on/off switch for quick electronic ignition and all are UL listed for safe use outdoors (this makes them safe for use in compliance with most burn bans). Many models can use both gas log set inserts and glass fire gems. More new fire products for 2012 from OGC include The Stone Fire, The Uptown, The Harmony, The Intrigue, The Saturn, The Colonial, The Napa Valley, The Rivers Edge, and The Sapphire Gel Fueled Fireplace.
About The Outdoor GreatRoom Company
Founded by industry veteran Dan Shimek, co-founder of Heat-n-Glo fireplaces, The Outdoor GreatRoom Company develops unique, upscale products for outdoor living and entertaining. Outdoor GreatRoom products include grills (gas and electric), outdoor kitchen islands, outdoor lighting, outdoor fireplaces (gas, electric and gel), fire pits, heaters, outdoor patio furniture, pergolas and more. For more information, call 866-303-4028 or visit http://www.OutdoorRooms.com.
# # #