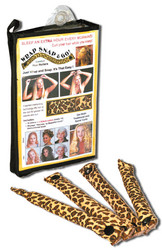 EPI risks its own money, all the product owner/inventor has to risk is time
Dallas, TX (PRWEB) June 2, 2008
Exceptional Products, Inc. ("EPI") launches its $25,000 new product search. EPI, a certified woman-owned enterprise, specializes in launching new products via direct response television and thereafter into retailers worldwide.
"Inventors and corporations alike are eligible," outlines Stephanie Stewart, President of EPI, "we are looking for unique patented consumer products to create TV campaigns around."
Inventors or product owners should visit Exceptional Products, Inc. and submit their product ideas. EPI does not charge for product reviews, nor does it charge for the television commercial production. "EPI risks its own money, all the product owner/inventor has to risk is time," observed Stephanie.
The details of the $25,000 product search are straight-forward- for all new products that EPI creates a TV commercial that Roll Out, EPI will immediately advance all product owners/inventors $25,000 towards future royalties. "EPI is really putting its money where its mouth is," said Stephanie "even if EPI does not generate enough sales to offset the royalty, the inventor/product owner will be under no obligation to return the money."
Simply submit your idea via EPI Submission and enter the code "$25,000" in the "How did you find us?" box. EPI will contact all inventors directly.
Consumer products with the following qualities have the best chance:
Unique (not sold in stores or too similar to the items that are)
Obvious Need (solves common problem or nuisance)
Understandable Benefits
Good Reason to Believe (why does yours work when others don't?)
High Perceived Value (Worth the money, problem worth fixing)
Protection Possible (patent, trademark or trade secret)
At Least 5X Markup- to Break Even! (make for $4 sell for $20 -- TV very expensive -- Profit comes at Retail)
Large Target Market -- (The larger the better -- TV is a Shotgun approach)
Demonstrable -- Magic Demonstration! (WOW! Factor)
Exceptional Products, Inc. is particularly interested in woman's hair styling products or any other products that appeal to the female customer. EPI has sold millions of units of woman-invented products from Hairdini® Magic Styling Wand, Wrap, Snap and Go!® hair curlers, PilloRest® multi-position pillow, among others. EPI hopes to make some inventor's dream of selling a million units a reality! Exceptional Products, Inc. Dallas, TX 1.800.536.5327
# # #