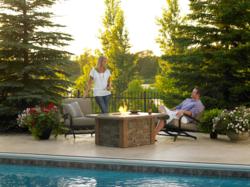 12 stylish new fire pit tables for spring. Over 40 outdoor fire products available.
Minneapolis, MN (PRWEB) January 23, 2012
Finding the perfect outdoor fire products has never been easier, and with the addition of 12 hot new products for spring from The Outdoor GreatRoom Company(OGC), they now offer more than 30 finished gas fire pit tables, and limitless options for designs using unfinished bases. All gas fire pit burner units from OGC have an easy on/off switch for quick electronic ignition, and all are UL listed for safe use outdoors (this makes them safe for use in compliance with most burn bans). Many models can use both gas log set inserts and glass crystal fire gems.
During the 2012 spring Hearth, Patio & Barbeque Expo all new fire pit tables will be introduced to market with fires ablaze at outdoor booth #5270. The new fire pit tables will accompany other products manufactured by The Outdoor GreatRoom Company that create the full outdoor room experience. Products include Pergolas, Outdoor Kitchens, Outdoor Patio Furniture, Gas and Electric Grills, Outdoor Fireplaces, Outdoor Lighting, Heating, Gel Fueled Products, and other accessories.

Products are available for purchase both online and in specialty retail locations across the US and Canada. A full list of Outdoor GreatRoom dealers is available online.
To see outdoor design ideas and to browse the full product line visit: http://www.outdoorrooms.com
To see a preview of the new products for spring visit http://www.GasFirePitTables.com
About The Outdoor Greatroom Company
Founded by industry veteran Dan Shimek, co-founder of Heat-n-Glo fireplaces, The Outdoor Greatroom Company manufactures unique, upscale products for outdoor living and entertaining spaces. Offering one-stop shopping experience where all products are available from single manufacturer. Outdoor GreatRoom products include grills (gas and electric), outdoor kitchen islands, gas lights, fireplaces (gas, electric and gel), campfires, heaters, outdoor furniture, pergolas and more. For more information, call 866-303-4028 or visit OutdoorRooms.com.
###