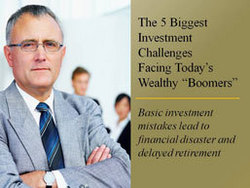 "We invested in this Independent Research Study to help baby boomers who are now wondering if they'll ever be able to retire due to losing money in the stock market," says Edwin Sanchez, President
Lakeland, FL (PRWEB) September 1, 2010
Since 2008, Americans have lost 7.4 trillion in their individual stock portfolios and pension plans AND retirement 401K accounts are down 27%. The New York Times reveals, "From June 2007 – March 2009, the net worth of U.S. households fell by $12.9 trillion." This amount would wrap roughly 35 times around the earth in $1 bills!
A poor investment strategy can create problems — both today and in the years to come. They may result in the inability to sustain ones lifestyle or delay ones retirement. Consequences of a poor investment strategy can include home foreclosure, failure to pay ones bills, or even being able to send ones children to college. Basic investment errors have led to financial disaster for millions of people. Learning to protect ones wealth in any economic environment is the key to managing wealth and providing a secure lifestyle.
Produced by the Empire Research Group, an independent research firm, this investment education webinar explores investment trends, provides some of the latest financial research, and offers high yield investment strategies to manage economic risk and build a sound financial future. It covers some of today's most important investment information, including:

Understanding the current investment landscape
Today's investment challenges
The five most common financial mistakes and how to avoid them
Five investment strategies to wise investing, including today's best high yield investment
In this free live webinar (http://www.newriseinvestments.com/webinars.html) one will discover high yield investment benefits which include how to create a hedge against inflation, build equity in ones investments, defer capital gains, and increase and protect ones portfolio - along with other valuable investment tips.
About New Rise Investments, LLC
In business since 2004, New Rise Investments (http://www.newriseinvestments.com) is a leading real estate investment firm based in Lakeland, FL that is committed to providing investors and those who advise them, with national real estate investment opportunities and profitable, superior risk adjusted returns while maintaining the highest standards of integrity. With its management team, New Rise Investments has more than twenty-five years of combined experience in acquiring apartment complexes across the U.S.
###