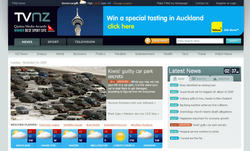 (PRWEB) June 15, 2010
TVNZ's Business, Breakfast, Maori News and Political programmes have had significant ratings increases in the last year.
NZI Business and Breakfast have increased their audience by around one third, that's an average daily increase of 12,000 viewers for Corin Dann's early morning business show and an extra 35,000 for Paul Henry and Pippa Wetzell.
The ONE News audience has stayed the same but rival 3 News has lost almost 10% of its audience, dropping more than 42,000 viewers since May 2009.
NZ's leading Te Reo television news programme, Te Karere has jumped by almost 20,000 viewers to over 65,000 viewers watching the live un-subtitled bulletin at 4pm daily, since last year.
There's also been a dramatic increase of 38% in Q+A's audience despite the introduction of TV3's rival programme The Nation. The Nation attracted an average audience of 15,000 viewers per show in May compared to Q+A's 66,350. An additional 18,310 viewers are tuning in to Q+A each week, recognition of the quality of the analysis and news making content on the show.
TVNZ.co.nz has experienced substantial growth in the past month. Growth in the news site reflects tvnz.co.nz's increasing focus on New Zealand news and sport. Extensive coverage of the Budget, the storms which battered the South Island and the All Whites build-up to the World Cup contributed to the boost in readership last month.
Close Up's coverage of the Hug a Ginga debate sparked one of the biggest messageboards in the site's history and topped tvnz.co.nz's most watched news videos in May.
# # #