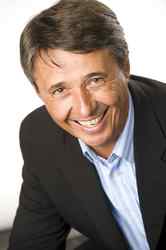 It's only the second time in the Award's 30 year history that judges couldn't decide between two top entries
Auckland, New Zealand (PRWEB) December 10, 2009
TVNZ News has been able to add the most prestigious prize in sports journalism to a record haul of honours in 2009.
Senior Close Up reporter, Michael Holland shared the top trophy at the Sir Terry McLean National Sports Journalism Awards at the weekend when he was named as co-winner of the Sports Journalist of the Year.
Michael shared the award, affectionately known as the 'T.P. McLean", with photographer Phil Walter from Getty Images. It's only the second time in the Award's 30 year history that judges couldn't decide between two top entries and directed that the award be shared.
Michael submitted several sports stories that he covered during the year on Close Up including a piece on the U17 women's soccer world cup team and its surrogate mother, the world motorcycle record attempt in Bonneville USA and 91 year veteran swimmer Kath Johnstone who cleaned up the medals at the World Masters in Sydney.
TVNZ sport news reporter Craig Stanaway was also recognised, he won the award for Best Sports News Broadcasting of the year across radio and TV. Craig won the category for the stories he broke during 2009 that included exposing four high profile members of the NZ Bowls team being accused of match fixing, in-depth analysis of the NZRU's annual report that showed the level of internal pressure from inside the rugby union on the All Blacks to win plus the decline in Pay TV viewers tuning in to All Black games and an exclusive television interview with V8 driver Paul Radisich after crashing at Bathurst.
Yachting journalist Martin Tasker and tvnz.co.nz's sport producer Michael Burgess were finalists in the Best Sports Column/Opinion category and 20/20 Editor Pete Cronshaw was a finalist in the Recreation/Adventure/Lifestyle category.
In 2009 TVNZ News has won 11 of the 12 Qantas Film and Television awards for News & Current Affairs, the Television Award for Maori Language, the Best TV news/feature story at the Australia & NZ Netball Awards and the top award for best sport website at the Qantas Media Awards for the Beijing Olympics site on http://www.tvnz.co.nz.
# # #