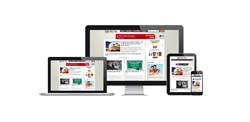 The new web design is faster, cleaner and optimized to ensure a smoother user experience.
Richmond, VA (PRWEB) July 13, 2015
Even though content will remain king, it's a website's user experience that can make or break its online reputation. Taking this to heart, Right Side News, a leading online conservative news magazine, recently announced the launch of their brand new and responsive web design. The user-friendly design was created by BCS Website Services, a website hosting and development company that practices best SEO practices and technology for their clientele.
When asked about the inspiration behind the decision, a spokesperson for Right Side News had this to say, "Today more and more people are relying on their smartphones to access information online whether it is political news, product reviews, online shopping, basically anything that they can read on the go without accessing a desktop. Very few will actually take the time to wait for a page to load for more than 2 or 3 seconds. The new web design is faster, cleaner and optimized to ensure a smoother user experience irrespective of whether they are using a smartphone, desktop or any other mobile device."
When asked whether the new design was worth investing time and money, the spokesperson replied, "Absolutely. Our aim is to bring our readers a reliable portal that can serve as an early warning system against threats to Western Civilization. However, that will not be possible with an inaccessible or unresponsive website today. Plus, earlier this year, Google had already announced that it would target any unresponsive websites from mobile based searches. Since almost 80% of users make use of smart devices, a responsive web design is vital for the success of a website. The team at BCS Website Services did a remarkable job and communication was good. The development went quite smoothly and we couldn't be happier with the new web design."
Some of the main features of the re-designed website showcase a cleaner and more attractive design, enhanced content and navigation, easier access to news pieces and optimized searches. With the responsive HTML design, visitors do not have to resize to read a news piece and they can also access the website on the go, regardless of their location, from any mobile device. The website is divided into 3 main categories, with subsequent sub categories pertaining to their theme. It can adapt to different screen sizes and promises a more streamlined experience for users.
About Right Side News
Right Side News is a prominent conservative online news magazine that has been providing its loyal readers breaking news since June, 2007. The web news outlet regularly publishes information about threats to Western civilization, and allows readers an opportunity to counter them via access to an early warning information system. The portal also features a forum where visitors can share their views.
Right Side News Contact Information
Jeff Bayard
Right Side Publications, LLC
2711 Buford Road
Suite 105
Richmond, Va., 23235
(804) 869-4485
Email: editor(at)rightsidenews.com
Website: http://www.RightSideNews.com
BCS Website Services Contact Information
Frank Petrov
8012 Midlothian Turnpike #103
Richmond, VA 23235
(804) 421-2400 Ext. 702
Email: fpetrov(at)bcswebsiteservices.com
Website: https://www.bcswebsiteservices.com