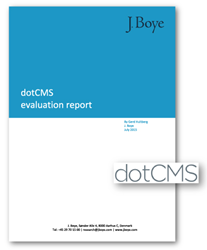 dotCMS focuses on making it easy for developers to integrate with the other business systems of the organisation and create their own customised implementations. This makes it possible and easy to both push and pull content to any channel or device…
Miami, Florida (PRWEB) August 11, 2015
A new evaluation report of dotCMS version 3.2 has been published and is now available on the dotCMS website. The dotCMS Evaluation Report, produced by well known research, analyst and consulting firm J. Boye, with headquarters in Arhaus Denmark, presents an objective look at the open source, dotCMS Content Management System (CMS) and it's features and capabilities. The report outlines the key functional areas most often required in the CMS marketplace and provides insight on how dotCMS software addresses those requirements.
Based on market data and direct interviews with dotCMS customers, the report covers topics from system architecture, governance and multisite web operations to multi-channel, digital marketing and integration capabilities of the Java, open source CMS. In addition to information about dotCMS, the report also offers analysis and perspective on market trends that are shaping current development and application of content management systems and related technologies.
The report's executive summary shows that dotCMS scored well in all categories and excels in the category of integration, receiving the highest possible score of "very strong," in that category.
"DotCMS has a clear focus on integration with open APIs and built-in support for responsive design and CSS frameworks. …dotCMS focuses on making it easy for developers to integrate with the other business systems of the organisation and create their own customised implementations. This makes it possible and easy to both push and pull content to any channel or device… It also means that dotCMS is ready for the Internet of things (IoT): smart devices and wearables as well as supporting digital transformation within organisations."
The J. Boye dotCMS Evaluation Report is available as a free download and more information can be found on the dotCMS company website: http://dotcms.com/marketing/jboye-dotcms-evaluation-report.
About dotCMS
DotCMS is a leading Java open source content management system for companies that demand performance in Web operations and content management. Built on open standards; JSON, XML, REST, Spring, OSGI and CMIS, dotCMS is the developer friendly CMS. Extensible and massively scalable, companies can rapidly deliver personalized, engaging content rich experiences across devices, channels, second screens and endpoints, all from a single system.
Privately owned and headquartered in Miami, Florida, dotCMS has an active open source community that has generated more than 300,000 downloads and has an expanding global network of certified development partners. The open source software is available for download on the companies website: http://dotcms.com/download