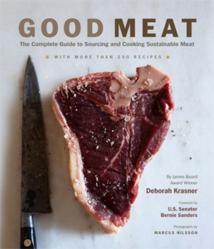 Dillon, Montana (PRWEB) June 09, 2011
On June 2, 2011, Deborah Krasner's sustainable beef book Good Meat: The Complete Guide to Sourcing and Cooking Sustainable Beef won the esteemed Food Matters International Association of Culinary Professionals award. Selected from the competitive IACP 2011 Awards Finalists, Good Meat offers readers total guidance on how to find, order and prepare sustainably raised beef. The book was also named a 2011 James Beard Foundation Awards Finalist in the Single Subject category. The James Beard Foundation Awards are often referred to as "the Oscars of the food world". Good Meat includes a foreword by Vermont Senator Bernie Sanders and an afterword by La Cense Beef owner William Kriegel.
La Cense Beef is the country's first USDA Certified grass fed beef producer. La Cense sells the highest quality grass fed beef exclusively direct-to-consumer from its 88,000-acre La Cense Montana ranch and has been devoted to sustainable, 100% grass fed ranching since it was founded in 2002.
La Cense Beef and Good Meat both stress the health benefits, exceptional quality and guaranteed satisfaction with choosing grass fed beef.
Grass fed beef has been recognized to be better for human health than grain fed beef in ten different ways, according to a 2009 study by the USDA and Clemson University in South Carolina. Specifically, according to the study when compared to grain fed beef, grass fed beef is:

Lower in total fat
Lower in the saturated fats linked with heart disease
Higher in CLA (cis-9 trans-11), a potential cancer fighter
Higher in total omega-3s
Higher in beta-carotene
Higher in vitamin E (alpha-tocopherol)
Higher in the B-vitamins thiamin and riboflavin
Higher in the minerals calcium, magnesium, and potassium
A healthier ratio of omega-6 to omega-3 fatty acids (1.65 vs 4.84)
Higher in vaccenic acid (which can be transformed into CLA)
La Cense ensures that top-grade Black Angus cattle are fed a 100% grass fed diet for the duration of their lives and treated using sustainable ranching practices. This humane treatment results in low stress levels and better cattle health, eliminating the use of harmful nutritional supplements and antibiotics. The grass fed operation produces the highest quality, healthy meat for you and your family and helps the environment as well.
In the Good Meat afterword, Kriegel discusses why he decided to run La Cense in a socially responsible way, the initial challenges in running a large-scale grass fed beef operation, how La Cense Montana developed its protocols and grazing programs to maintain the highest standards of satisfaction and the overall benefits of sustainable ranching.
Good Meat is available for purchase now on the La Cense website. For more information, please visit http://www.lacensebeef.com.
About La Cense Beef:
The first company to meet the USDA's grass fed standard, La Cense Beef (http://www.lacensebeef.com) is the leading all-natural cattle ranch focused on raising top-grade Black Angus cattle for exclusive direct-to-consumer beef sale. La Cense is devoted to the principles of sustainable ranching, including free roaming and rotational grazing across La Cense's 88,000-acre ranch in Southwest Montana, producing 100% all-natural grass fed beef that is never "finished" with the introduction of grains into the diet. Many companies introduce grain to their cattle's diet in addition to grass, and label it "grass fed", misleading the customer. La Cense Beef is exclusively grass fed beef.
La Cense Beef derives its flavor from the grasses and plants the cattle graze on at the La Cense Montana ranch and from the humane and stress-free environment provided by our master ranchers. These master ranchers have years of experience working on Montana cattle operations and help ensure that a humane, stress-free environment is constantly maintained. In doing so, and in utilizing a sophisticated process of managed rotational grazing that ensures that cattle graze only upon lush pastures each and every day, they provide a superior beef, unlike any other grass fed beef produced in the U.S.
The La Cense Beef ranch sits at an altitude of 5,100 feet in a pristine, unpolluted, vast landscape where the cattle enjoy the most natural, unadulterated life possible.
###