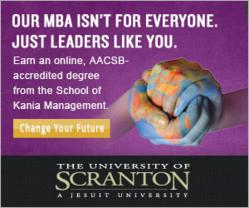 The program is developed and taught by a diverse multi-national faculty with deep knowledge of current international economics and finance as well as firsthand experience of the relevant cultural and business practices in the world's evolving markets
Scranton, PA (PRWEB) January 08, 2013
Qualified managers with specific expertise in the challenges and opportunities of global commerce are in demand as more businesses expand internationally. The new International Business specialization of the University of Scranton's established online MBA aims to train business professionals in the intricacies of expanding operations beyond domestic borders.
The 36-credit-hour program incorporates MBA core courses as well as international business courses. Students gain a comprehensive perspective of world economics, the intricacies of international finance, cultural differences and their effect on business functions, the challenges of supply chain management in other countries, and more.
Employment of MBAs with international expertise is up, according to the QS TopMBA.com Jobs & Salary Trends Report 2011/12 (available at topmba.com). The greatest demand is currently found from companies in Asia and Latin America, as well as Western businesses expanding into the Middle East. Salaries are rising too: MBA pay increased by an average of 4 percent among companies surveyed in the report in 2011. An MBA with a specialization in International Business can help position graduates to take immediate advantage of these opportunities.
"I am very confident that students will find the Kania School's rigorous and analytical program in International Business of exceptional value in developing knowledge and skills for leadership in any international marketplace," says Michael Mensah, Ph.D., dean of the Kania School of Management. "The program is developed and taught by a diverse multi-national faculty with deep knowledge of current international economics and finance as well as firsthand experience of the relevant cultural and business practices in the world's evolving markets. It focuses on skills professionals can use today and throughout their careers."
The International Business specialization is the latest track to be added to the University's respected online MBA. Students may also opt for a general track or specialize in Enterprise Resource Planning, Operations Management, or Healthcare Management.
Applications to the online MBA are now being accepted. Call (866) 373-9547 or go to scrantonuniversityonline.com for more information.
About the University of Scranton:
One of 28 Jesuit colleges and universities in the United States, the University of Scranton cultivates an educational environment shaped by Jesuit values of ethics and social responsibility. Faculty and staff are committed to providing an exceptional education that prepares students to meet the challenges and opportunities of today's world.
The University's Kania School of Management offers an MBA degree Online] is among a small number of institutions accredited by the AACSB International (Association to Advance Collegiate Schools of Business). AACSB accreditation signals the highest standard of achievement for business schools around the world. Less than 5 percent of educational institutions worldwide that offer business degrees have achieved this distinction.