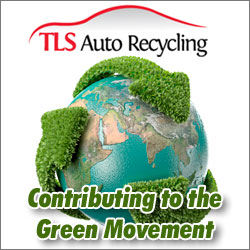 TLS Auto Recycling Contributing to the Green Movement
Sacramento,CA (PRWEB) May 11, 2012
In honor of Earth Day 2012, TLS Auto Recycling has announced the establishment of a brand-new business division devoted solely to automobile sales. By reselling used automobiles, TLS Auto Recycling will make a real contribution to the green movement and will put the old adage "reduce, reuse, recycle" into real-world use.
For years, TLS Auto Recycling has been saving customers up to 60% off market value on used Toyota Parts, Lexus, and Scion parts, and now, with a full-fledged automobile sales department, TLS will be able to offer customers even more savings than before. The environmental movement is at a never-before-seen strength in the United States, and with this new Auto Sales division, TLS Auto Recycling is poised to make an even bigger dent on the northern California auto recycling and sales scene. Reselling used cars demonstrates that TLS can "walk the walk" as well as "talk the talk." With the inauguration of this new division, TLS is proving that it is not only committed to saving customers money, but to making a real difference in the world.
About TLS Auto Recycling:
With a staff boasting a combined experience of over 70 years in the dismantling and recycling industry, TLS Auto Recycling is at the forefront of the northern California auto recycling business. Specializing in auto parts for the Toyota, Lexus, or Scion driver, TLS Auto Recycling is renowned for its high rate of client satisfaction and customer-oriented business philosophy. A leader in the green industry and in environmentally friendly business practices, TLS uses only clean and undamaged parts that undergo rigorous in-house testing.