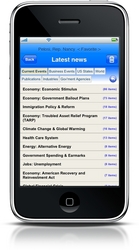 Given the growing importance of government in our economy and in our businesses, it is more important than ever to be able to easily cross-search for our elected officials against various industries, issues, and organizations
Austin, TX (PRWEB) July 7, 2009
pTracker, LLC today announced the launch of "politicoTracker", a News Discovery Tool for the iPhone that lets users find relevant, real-time news about most U.S. federal, state, and local elected officials. This app employs advanced object-based search technology that additionally allows the user to instantly cross-search, or "group" political news into various topics, efficiently highlighting relationships between the politician and other interests.
This ability to drill down and cross-reference news search results is known as "news discovery", as it allows users to discover facts that they would not have known to look for otherwise. politicoTracker is the only app for the iPhone to use this patent-pending technology, but is only the first of several apps pTracker intends to develop for mobile device users, with each app focused on a particular subject.
politicoTracker ships with a comprehensive database of U.S. Members of Congress (Senators and Representatives), and Executive Elected Officials and Cabinet Members, plus State Senators, Congressmen, Councilmen, and Governors - over 6600 names in all. Users can filter the list to quickly select a specific person, or use the "Favorites" feature for "3 taps to get results" access to the politician's news.
politicoTracker allows users to answer questions such as these (presented with recent examples):

How are Secretary of State Clinton's activities broken down by World Geographic regions? Secretary Clinton recently met with Bolivian Foreign Minister David Choquehuanca for the second time this year.
What is the local state representative doing about Current Events, such as home foreclosures? Connecticut State Rep. Ryan Berry co-led a committee that introduced consumer protection legislation.
What is your congressman's involvement in Business Events, such as plant and factory closures? LA State Rep. Wayne Waddell hopes workers at GM's Shreveport plant, due to close in 2012, will commute or move to Monroe for a new auto plant proposed by San-Diego startup V-Vehicle Co.
What is President Obama's involvement with issues at the U.S. State level? Recently Obama met with California company Hara's CEO Amit Chatterjee to discuss energy innovation and job creation.
What is the New York Times, or the local press, saying about a specific potential presidential candidate for 2012?
Just group the politician's news by Publications to find out.

In what ways is the state's U.S. senator involved with the Transportation Industry? California Sen. Barbara Boxer announced new commercial aviation safety legislation.
… and many others that would take an inordinate amount of time to research with a traditional search engine.
Although the latest electoral season has passed, pTracker still sees a public interest in easily following what our political leaders are up to. "Given the growing importance of government in our economy and in our businesses, it is more important than ever to be able to easily cross-search for our elected officials against various industries, issues, and organizations," says Erwin Mazariegos, founder of pTracker. "We are pleased to be able to bring this capability to the mobile mass market, and we are very excited about our future products as well."
pTracker licensed the core search technology from Llesiant Inc, also based in Austin. Llesiant's object-based search technology is fundamentally different from traditional text-based search engines. When Llesiant's system receives and processes incoming news articles, it tags (or creates "meta-data") about every "object" it finds within the article. Then when a user later conducts a search for one of those objects (in this case, a particular politician), this meta-data is used to find only those articles that reference that specific person. The outcome is highly-targeted, relevant results without the off-topic links of a traditional text-based search engine. And because most news articles will contain references to more than one thing (or object), cross-searches on multiple meta-data are likewise extremely fast and accurate.
Llesiant's technology is currently in use by U.S. lawmakers, senatorial and congressional committees and offices, and Fortune 500 corporations and major law firms. The news sources include over 25,000 global publications, so a wide array of journalistic and cultural perspectives are available. Because live news streams are processed on an ongoing basis, results are available to politicoTracker users in real-time.
For more information, including app screenshots and a free sample search, please visit http://www.politicoTracker.com. The "politicoTracker" app runs on any iPhone or iPod Touch and is available now at Apple's App Store at this iTunes link. A politicoTracker Twitter Edition app is also available. Both apps have received positive independent reviews by Macworld, AppCraver, and 148Apps, with other sites pending. Details at the web site
About pTracker, LLC:
pTracker is an Austin, TX, based provider of applications for mobile devices. pTracker is among the first to bring next-generation search technology to the iPhone platform. pTracker's first products, "politicoTracker" and "politicoTracker Twitter Edition" are focused on politicians and run on Apple's iPhone devices. Future products will enable news discovery in other areas of interest, and on other mobile device platforms.
###