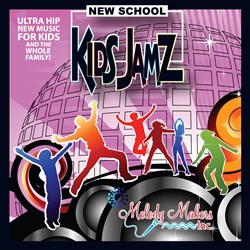 Everyone Needs a Friend Like You
Newport Beach, CA (PRWEB) January 20, 2011
New School Kids Jamz, a collection of 10 new original funky beats, cool melodies and positive, wholesome lyrics are available now for purchase on iTunes https://itunes.apple.com/us/album/new-school-kids-jamz/id408705113.
Conceived by Melanie Andrews, a mother, multi-platinum songwriter/producer, and owner of Melody Makers Newport Beach, a music entertainment company that operates a child-centered singing, dancing, and recording studio on the Balboa Peninsula in Newport Beach, New School Kids Jamz offers parents and kids a fresh and exciting alternative to mainstream artists whose music often is filled with mature content many parents feel is not suitable for children. The New School Kids Jamz songs are filled with fun and kid-friendly lyrics. For example, there is a song named "Spooky Jam" written about Trick-or-Treating that takes the scariness out of Halloween with a fun/funky twist. "Funky Playground" is a song about having a playdate at the coolest playground ever. Another favorite is "It's Your Birthday" which has a very funky music track with crowd participation in the song. The song entitled "Friday" is about looking forward to the weekend. The "Alphabet Jam" is a rap song using the alphabet. "Christmas at the Beach" has gotten great reviews. There are also 2 sweet ballads: "Everyone Needs a Friend Like You" and "Blue Skies and Rainbows."
Andrews explains, "I am a mother and I have worked with kids for more than 10 years and over and over again, I have run into parents who are concerned about the quality and content of the music their children are listening to. Of course kids' love popular music with its hip beats, but its mature themes and language are a source of consternation for parents."
While some popular products offer a partial solution, Andrews said in her experience, the kids themselves tend to prefer the original artists, and don't always accept these cover songs as authentic.
Andrews' solution has been to create New School Kids Jamz, which offers fresh, hip and current music designed especially for kids and loved by parents for its fun beats and clean, wholesome lyrics. Featuring all original songs, New School Kids Jamz appeals to music lovers of all ages with its upbeat funky vocals, catchy hooks and related lyrics and themes.
Here is what some reviewers are saying about New School Kids Jamz: "Awesome performance with high energy and very positive music. The singing, sound and lyrics are tremendous. My favorite song is Everyone Needs a Friend. New School Kids Jamz is a fresh and wonderful hit!" ...."Darling songs, positive lyrics, sweet voices! Can't wait for the next album!" ...."It's new original music for kids! Not songs redone...nice! Keep it coming! Playing it at my son's Birthday!"
As a singer/songwriter, and having worked with many renowned artists and producers in the industry, Andrews tapped her vast resources and contacted her favorite music producer to co-create New School Kids Jamz. All songs were co-written and produced by Andrews and Jay Shanklin, an artist, musician, composer/producer that has worked with many artist including: Boyz II Men and Herbie Hancock. In addition, he was a member of Sony Record's band "Tease." He is currently a music executive at N'Focus Entertainment in Orange County.
Andrews, who is the granddaughter of world-renowned trumpet player Snooky Young, created a stir in the music world when she became one of the youngest female writers in the industry after winning the BMI Pop Music Award for "Let's Wait Awhile" (made popular by Janet Jackson which sold 10 million copies) as well as the BMI Millionaires Award. This award is given when your music has been broadcasted on radio or television over one million times.
This early success landed her a five-year deal with the powerhouse publishing company, Famous Music, (a Paramount Picture Company). After spearheading numerous successful songs and artists, Melanie created her own production/publishing company, Melody Makers, Inc. Working with current and up-and-coming artists, Melanie has gone on to write/produce numerous hits with R&B group Earth Wind and Fire, and for such esteemed labels as: A&M Records, Virgin Records, Warner Bros., MCA Records and Mo Jazz/Motown.
Look for more the " New School Kids Jamz 2" release coming soon.
For additional information and to learn more about New School Kids Jamz, visit http://www.mdihits.com or call (949) 423-5710.
# # #