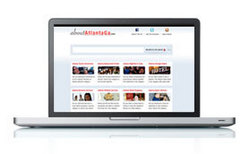 User behavior research has shown that more than 8 out of 10 people will not browse beyond the third page of results on the major search engines
Atlanta, GA (Vocus) October 27, 2010
Today, About Atlanta Incorporated announces an innovative partnership program for U.S. newspaper publishers. The company seeks to form strategic partnerships with metropolitan newspapers and reshape how Americans find local information online. On September 8, 2010, About Atlanta Incorporated launched http://www.aboutAtlantaGA.com, the first of 50 localized search engine directories scheduled to launch by 2012. The company's CEO, Anthony M. Ragland, believes the family of local search engine directories will help metropolitan residents and tourists find 'more' local businesses, products and services online.
"User behavior research has shown that more than 8 out of 10 people will not browse beyond the third page of results on the major search engines," said the CEO of About Atlanta Incorporated. "AboutAtlantaGA.com and our family of local search engine directories will all share an intuitive and simplistic design that makes browsing our sites a joy-to-use."
To help expedite and facilitate the strategic alliances with local newspaper publishers, About Atlanta Incorporated has retained the legal services of renowned Internet law attorney, William S. Galkin, to spearhead the newspaper partnership program. Mr. Galkin has dedicated his legal practice to representing Internet businesses and helping them become successful. He serves as a trusted advisor to About Atlanta Incorporated on commercial transactions such as terms of use, privacy policies, advertising agreements, content licenses, alliance/partner agreements and end user licenses. Throughout his 20 years in practice, Mr. Galkin has provided cutting-edge, best practice and efficient solutions to both start-ups and multinational corporations.
"Our newspaper partnership program presents a unique opportunity for local publishers to instantly boost their brand and online advertising revenue," said William S. Galkin, the attorney representing About Atlanta Incorporated.
As part of the partnership program terms of agreement, newspaper publishers will receive a co-branded version of the local search engine directory and metropolitan city exclusivity; and be responsible for local marketing and online advertising sales. About Atlanta Incorporated will receive a license fee for the co-branded local search engine directory and exclusivity arrangement; and be responsible for managing creative/editorial quality standards, software/website development upgrades and server/database administration. In addition, About Atlanta Incorporated will implement and manage an aggressive Internet marketing and online branding campaign for each local search engine directory. The online advertising revenue generated from each local search engine directory will be split between the newspaper publisher and About Atlanta Incorporated.
"Our search engine directory was custom built to help people find local businesses and things to do around town. With the help of a few newspaper partners, we will establish our brand as the place to go for local information online," says Shannon Humphrey, the Executive Director at About Atlanta Incorporated.
About ABOUT ATLANTA INCORPORATED
About Atlanta Incorporated is the founding company of aboutAtlantaGA.com, the local search engine directory for Atlanta businesses, residents and tourists. The company has expansion plans to develop and launch a local search engine directory in every state in the U.S. The search engine directory software has a scalable code base and system architecture, which gives the company the ability to quickly deploy new search engine directories in emerging local markets. For more information, please visit http://www.aboutAtlantaGA.com or call (404) 720-0941.
This release contains "forward-looking" statements that are made pursuant to the Safe Harbor provisions of the Private Securities Litigation Reform Act of 1995. These are statements that are predictive in nature, that depend upon or refer to future events or conditions, or that include words such as "believe," "estimate," "anticipate," "plan," "predict," "may," "hope," "can," "will," "should," "expect," "intend," "is designed to," "with the intent," "potential," and similar expressions. This press release contains forward-looking statements relating to, among other things, About Atlanta Incorporated's expectations and assumptions concerning future company performance. Forward-looking statements involve known and unknown risks and uncertainties that may cause actual future results to differ materially from those projected or contemplated in the forward-looking statements.
###