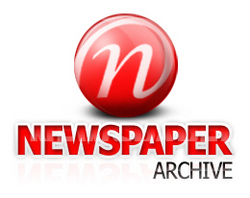 This relationship is a perfect match
Cedar Rapids, Iowa (PRWEB) March 24, 2009
Cedar Rapids-based NewspaperARCHIVE, the world's largest online newspaper archive, is pleased to announce that it has partnered with SmallTownPapers, the Seattle-based newspaper archives company. This agreement will provide a new outlet to access the scanned archives of more than 300 newspapers from SmallTownPapers, and will provide new digital newspaper content for NewspaperARCHIVE members.
"This relationship is a perfect match," said Jeffrey Kiley, General Manager for Heritage Microfilm and NewspaperARCHIVE. "SmallTownPapers publishers enjoy an additional reader base and the NewspaperARCHIVE technical infrastructure, while NewspaperARCHIVE members gain access to additional newspapers, making research and family discovery even easier."
NewspaperARCHIVE will integrate SmallTownPapers' newspaper content into their archive beginning in April of 2009, and continuing indefinitely. Currently, NewspaperARCHIVE is slated to add roughly four million SmallTownPapers newspaper pages to their archive, continuing the growth of unique and interesting content for their members. That number will grow as the SmallTownPapers collection increases.
"SmallTownPapers represents the broadest source of small market newspapers in this country and the wealth of information they contain," said SmallTownPapers founder Paul Jeffko. "We are very pleased to partner with NewspaperARCHIVE to make our unique content more widely accessible."
This partnership will be a substantial boon for genealogists and other researchers, creating a comprehensive database covering more than 2700 newspaper titles and more than 250 years of history. The collection from SmallTownPapers includes historic archives as well as recent editions.
Among unique papers that this relationship will make available are the Cape Gazette (DE), Billings County Pioneer (MT), The Woodville Republican (MS), The Issaquah Press (WA), and The Tuskegee News (AL). All SmallTownPapers are scanned directly from the newspaper or bound volumes of the newspaper, enabling smaller newspapers without microfilm collections to preserve their newspaper history in a searchable digital format.
About Heritage Microfilm
Heritage Microfilm, Inc., of Cedar Rapids, Iowa, is a major archival microfilm and digitization company. Heritage Microfilm was founded in 1996 and quickly became one of the premier newspaper preservation vendors in North America. They are currently trusted with the preservation microfilming of more than 600 North American newspaper titles, as well as several international ones. Publishers or librarians interested in more information about Heritage Microfilm can visit http://www.heritagemicrofilm.com.
About NewspaperARCHIVE
In 1999, Heritage Microfilm launched the brand NewspaperARCHIVE, the world's largest historical newspaper database online. NewspaperARCHIVE contains tens of millions of newspaper pages from 1759 to present, spanning almost 3,000 newspaper titles and 762 cities. Every newspaper in the archive is fully searchable by keyword and date making it easy to quickly explore historical content. Anyone interested in finding more information about Heritage Microfilm and NewspaperARCHIVE can visit http://www.newspaperarchive.com.
About SmallTownPapers
About SmallTownPapers -- SmallTownPapers represents the broadest source of newspapers from small town America -- past and present. Working with publishers from across the country, the company digitally scans current and archived newspapers and then provides online access. The SmallTownPapers Collection of over 300 small-town newspaper archives will soon be available on http://www.NewspaperArchive.com where millions of scanned newspaper pages can be searched by keyword and viewed as originally printed. SmallTownPapers, Inc. is based in Seattle, Washington. For more information visit http://www.SmallTownPapers.com.