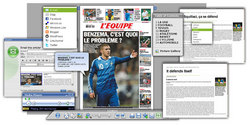 Furthering its reach around the globe, NewspaperDirect has added a really vital French language sports publication to PressDisplay.com. L'Equipe is where all the major French football interviews come from and is a European staple of excellence in sports journalism. It is a must read for all sports fans
Vancouver, Canada (PRWEB) April 20, 2009
Only days after L'Equipe published its 20,000th issue in France, NewspaperDirect Inc., the world leader in multi-channel newspaper and magazine content distribution and monetization, announces that it has reached the 1,000 publications milestone mark with the addition of France's iconic sports newspaper, L'Equipe, to NewspaperDirect's global digital network.
Starting this week, L'Equipe will be made available in a selection of countries around the world in luxury hotels, libraries, retail shops, on cruise ships, yachts and airlines, and through home-delivery services supported by some of NewspaperDirect's 108 licensed partners in more than 100 countries. To find if L'Equipe is distributed in your country through the NewspaperDirect network, please visit NewspaperDirect.com/L'Equipe.
"NewspaperDirect's distribution network is a very efficient additional solution to make the French edition of L'Equipe available to our readers in remote countries worldwide", says François Morinière, L'Equipe's Managing Director.
The highly popular sports publication will also be available on PressDisplay.com, the world's largest online newspaper and magazine kiosk, which will enable it to reach millions of sports fans around the world in multiple languages, on their PCs, Macs, smartphones, iPhones, BlackBerry and iPod Touch devices, as well as on the latest eReaders, such as the iRex Digital Reader. And with PressDisplay.com's multi-language user interface support, readers will be able to access L'Equipe through French, English, German, Italian, Russian, Spanish and Arabic interfaces.
"We are very excited to enhance our sports news offering with such a renowned publication as L'Equipe, said Alex Kroogman, CEO of NewspaperDirect. "Not only can sports fans around the world now read this highly acclaimed publication in print and online, the publisher now has instant access to new markets worldwide, including major events like the winter games being held in Vancouver in 2010, without any capital investment on their part."
"We have both print and digital editorial agreements with major press partners around the globe to publish in the local language. PressDisplay bridges the gap with a digital state-of-the art tool for our overseas French-reading sports enthusiasts!" said Antoine Vernholes, International Director of L'Equipe.
Already, North American soccer enthusiasts are sharing their excitement about this latest addition to NewspaperDirect's sports editions.
"Furthering its reach around the globe, NewspaperDirect has added a really vital French language sports publication to PressDisplay.com. L'Equipe is where all the major French football interviews come from and is a European staple of excellence in sports journalism. It is a must read for all sports fans," said Steven Cohen, host of World Soccer Daily and CEO of Soccer Weekly, Inc. "The fact that PressDisplay.com gives readers the opportunity to have the paper translated into multiple languages only makes the viewer/customer all the more lucky. It's another serious victory for PressDisplay and its customers."
About L'Equipe
L'Équipe™® is "a global media group", and a subsidiary of the Amaury Group, which also publishes the French daily newspaper Le Parisien - Aujourd'hui en France and owns the Amaury Sport Organisation (ASO) which organises the Tour de France™ and the Dakar Series Rally Raid, among other events. The Amaury Group is the second-biggest daily press group in France and the biggest sporting organisation group in Europe.
Founded in 1946, L'Équipe has been at the heart of sports and sporting events for over 50 years. Amongst other things, journalists from L'Equipe were instrumental in creating soccer's European Cup in the 1950s, a competition that later became the acclaimed Champions' League.
The success of L'Équipe can be attributed to its editorial independence and respect of the fundamental values of sport.
Providing information in a credible manner and making sense of the news while capturing the breathtaking excitement of sport; enabling readers to experiences events from the inside; independently deciphering sports news and producing the highest standard of analysis … This wide range of options makes L'Équipe a cultural reference and a popular brand for sports enthusiasts.
Our goal? To share the emotion and passion of sport on the highest level with the widest audience.
L'Équipe also operates syndication, licensing and venture agreements with a view to publishing dailies and magazines and operating digital platforms in various languages with major press groups around the globe.
Visit L'Equipe for more details.
About NewspaperDirect Inc.
Founded in 1999, NewspaperDirect Inc. is the world leader in multi-channel newspaper and magazine content distribution and monetization. NewspaperDirect offers more than 1,000 newspaper and magazine titles through a global network of 1,200 print locations in 105 countries, delivering them to hotels, libraries, cruise ships, corporate offices, retail outlets, home subscribers, and Web browsers everywhere.
The company's PressDisplay.com offering is the world's largest online newspaper kiosk, providing instant access to hundreds of newspapers and magazines from around the world. Users can view publications online, download titles for offline viewing, vote and comment on articles, instantly translate articles into 12 different languages, listen to publications on their PCs, Macs or mobile devices. They can also enjoy reading hundreds of publications that have been optimized for smartphones, iPhones, iPod Touch and BlackBerry devices, as well as the latest e-Readers, such as the iRex DR1000. Special versions of PressDisplay.com are available for the library, corporate, airline, hotel and OEM markets.
NewspaperDirect's SmartEdition e-paper solution, powered by PressDisplay technology, fits every publisher's needs with zero operational cost. With SmartEdition, a publisher's subscribers benefit from anywhere/anytime access to current and back issues of their publications, while enjoying premium digital features such as voice narration, instant translation, article sharing, integration with leading blog platforms, and advanced searching. NewspaperDirect provides full hosting, payment acceptance, customer service management and technical support.
Media Contacts:
L'Equipe, International Relations:
Antoine Vernholes, international(at)lequipe.presse.fr +33-140-932-395
NewspaperDirect:
Gayle Moss, gmoss(at)newspaperdirect.com, +1-604-278-4604
PressDisplay.com and SmartEdition are trademarks or registered trademarks of NewspaperDirect Inc. L'Equipe is a trademark or registered trademark of Snc L'Equipe. All other trademarks and registered trademarks belong to their respective owners.
###