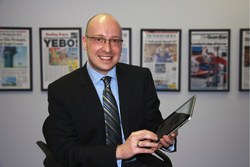 Over the past seven years, Nikolay has been instrumental in helping our publishing partners successfully transition themselves into the digital world
Vancouver, Canada (Vocus) May 27, 2010
NewspaperDirect, the world leader in multichannel newspaper and magazine content distribution and monetization, has appointed Mr. Nikolay Malyarov to vice president, publishing and legal affairs.
Based in Vancouver, Mr. Malyarov will be responsible for growing NewspaperDirect's worldwide community of publishing partners, helping them expand their market reach and increase revenues, while meeting their business objectives. He will also provide counsel on all legal aspects of the company's business.
Prior to his current role, Mr. Malyarov was director of digital media and legal affairs, where he spearheaded the growth of NewspaperDirect's digital publishing business. Under his leadership, NewspaperDirect launched more than 600 SmartEdition ePaper solutions for newspaper and magazine publishers around the world.
"Over the past seven years, Nikolay has been instrumental in helping our publishing partners successfully transition themselves into the digital world," said Alexander Kroogman, CEO of NewspaperDirect. "His passion for the publishing industry, combined with his expertise in digital media technology makes him the ideal choice to lead the cornerstone division of our business."
"I am honored and excited to take on this new responsibility at NewspaperDirect and grow our publishing division", said Malyarov. "The proliferation of new mobile distribution channels provides incredible opportunities to publishers who want to give their readers more choice in how they read their favorite publications. I believe that NewspaperDirect is well positioned to help publishers grow their auditable circulation in these new channels with the assurance that their content will always be protected."
About NewspaperDirect Inc.
NewspaperDirect delivers the world's newspapers and magazines to millions of readers the way they want to receive them — in print, online, or on their mobile device or eReader — wherever they live, travel, work or play. With the most innovative digital publishing technology in the industry and the only zero operational-cost business model, NewspaperDirect is recognized as the world leader in multichannel content distribution and monetization, and is the chosen partner of more than 1,500 publishers from 90 countries.
Optimized for PCs, Macs, Smartphones, BlackBerry, iPhone, iPod Touch, iPad and numerous popular eReaders, NewspaperDirect's flagship products (PressDisplay.com and PressReader) transcend the traditional RSS or text-based formats of other digital editions, delivering full-content publications that are compliant with international audit bureau requirements. PressDisplay.com also enhances the reading experience with powerful features such as cross-title search, monitoring, article ranking, bookmarks, instant translation, on-demand audio and social features that allow readers to comment on content, share articles, and interact with other readers.
SmartEdition, powered by PressDisplay technology, offers publishers a fully customizable digital edition platform with powerful and proprietary back office reporting and analysis tools (Reading Map, Ad Value Map) that help them optimally manage their content and advertisers. NewspaperDirect provides full hosting, payment acceptance, customer service management, and technical support.
Media resources
NewspaperDirect newspaperdirect.com; PressDisplay pressdisplay.com; blog blog.pressdisplay.com/.
On Facebook facebook.com/PressDisplay; Twitter twitter.com/pressdisplay; @pressdisplay
YouTube youtube.com/user/pressdisplay
###