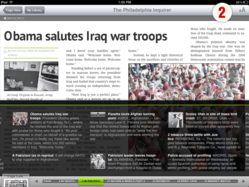 Vancouver, Canada (PRWEB) January 04, 2012
NewspaperDirect has released a major update of the PressReader digital newspaper application, which is now available for download in the Apple iTunes App Store.
PressReader 3.0 takes advantage of the power of the iPad2 running iOS5 to deliver the smoothest and most natural browsing and reading experience ever. With PressReader 3.0, users can now choose to read their favorite publications using SmartFlow - a groundbreaking horizontal news-reading feature that is exclusive to PressReader.
SmartFlow complements the traditional replica newspaper presentation with an ability to view articles as a continuous stream of stories that flow across the iPad, each optimally presented on the screen. With SmartFlow, users can journey through a collection of articles with visual cues that enhance their reading experience and reveal new gems of content they might otherwise miss. SmartFlow presents subscribers all the content of their favorite printed editions in a fluid stream of articles, where different sized images, fonts, styles and layouts provide insights into the importance of stories so readers can make more informed decisions on what they want to read.
With SmartFlow there is no need to jump to a new page where an article continues in the replica view. Instead, users just click on the "continue link" at the bottom of the snippet to expand to the full story right where they are located in the content flow. SmartFlow adjusts the rest of the stream immediately, making the reading experience more fluid and enjoyable.
SmartFlow is also directly connected with the Page View of the newspaper, allowing users to switch back to the original view of the page to see the article in context with neighboring stories and advertisements.
"PressReader 3.0 is a major release that embodies our intense focus on enriching the reading experience for our subscribers, and those of our SmartEdition publishers," said Alex Kroogman, CEO of NewspaperDirect. "With SmartFlow we've taken the replica experience to a whole new level – enhancing it with an intelligent and intuitive content presentation capability that is designed to inspire readers to spend even more time enjoying their favorite publications."
Along with SmartFlow presentation capabilities, PressReader 3.0 offers many innovative features, such as:

SmartZoom that automatically positions the zoomed-in view to the beginning of an article
Instant switching between Replica/Page View and SmartFlow viewing
Press and hold (i.e. Long Press) activation of contextually driven actions:
– Print full pages or articles
– Share stories by email or on Facebook or Twitter
– Listen to articles using Newspaper Radio
– Copy and paste articles into applications that support it
– Share opinions by supporting or opposing a story

Two-finger Pinch to adjust font and image sizes
Choice of different font types
Cross-title keyword search
Authorization of PressReader with a PressDisplay.com subscription
Watch this video to see SmartFlow in action along with the numerous other innovative enhancements included in PressReader 3.0.
PressReader for iPad and iPhone is available as a free download in the Apple iTunes App Store. Download it today and, as new user, receive 7 free newspapers from an enormous selection, which includes prestigious publications such as The Washington Post, Chicago Tribune, The Philadelphia Inquirer, National Post, The Globe and Mail, The Guardian, Daily Mail, International Herald Tribune, The Irish Times, ABC, La Tribune, Le Monde and The Australian, to name just a few.
Pricing
Most individual newspapers and magazines available through PressReader can be purchased for $0.99 per issue, or downloaded in conjunction with a paid subscription on PressDisplay.com, which offers virtually unlimited access to the world's press for just $29.95/month (USD). For full details on subscription pricing, visit our subscription page.
About PressReader
PressReader is the companion offline application for the world's largest online newspaper and magazine newsstand, PressDisplay.com. PressReader delivers the most authentic newspaper-reading experience on PCs, Macs, smartphones, Apple iOS devices (iPhone, iPod Touch, and iPad), BlackBerry devices (Bold, Curve, Storm and PlayBook), the Windows 7 Slate PC, and the latest Google Android-based handhelds and tablets. Today, millions of tablets come pre-installed with PressReader from a growing list of major manufacturers including ASUS, HTC, Microsoft, and Samsung. With PressReader, you can hold a digital edition of your favourite publication in your hands and read it from cover to cover, just the way the title was printed — with no compromises in quality, fidelity or content. Whenever PressReader, or its online service, PressDisplay.com, supports a new device, it is also made available to NewspaperDirect's publishing partners for their own SmartEdition e-editions based on PressReader technology.
About NewspaperDirect Inc.
NewspaperDirect delivers the world's newspapers and magazines to millions of readers the way they want to receive them — in print, online, or on their mobile device, tablet or eReader — wherever they live, travel, work or play. With the most innovative digital publishing technology in the industry and the only zero operational-cost business model, NewspaperDirect is recognized as the world leader in multichannel content distribution and monetization, and is the chosen partner of more than 2,000 publishers from 95 countries. Follow us on Facebook.com/pressreader, Twitter @pressdisplay, and YouTube.com/user/pressdisplay.
###