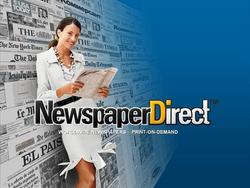 The growth of our License Partner network is strategic to our business plan
Vancouver, Canada (Vocus) December 13, 2007
NewspaperDirect, the world leader in multi-channel newspaper and magazine content distribution, announced that its print-on-demand capacity has increased by over 50% in 2007 to more than 1,200 print locations. This growth has been largely due to substantial expansion in its global License Partner Network -- now with 108 partner locations worldwide.
NewspaperDirect's License Partner network markets and sells the company's digitally-printed 595 newspaper titles from 72 countries in 37 languages to all key segments, including: hotels, retail, home subscribers, corporate offices, embassies, airports, libraries, educational institutions and at special events. Some of the key titles available through the network include: Wall Street Journal, New York Times, Daily Mail, Yomiuri Shimbun, and The Times (of London).
"We are proud to partner with NewspaperDirect, the recognized leader in digital newspaper distribution," said Marc Chassinat, CEO of Todalaprensa S.A. de C.V, whose success in Mexico City has enabled him to expand into Cancun. "Not only does NewspaperDirect have the largest selection of publications in the market, they have established a reputation in the industry for highly innovative technology, operational excellence and superior customer service."
License Partners who joined the NewspaperDirect network in 2007 ranged from well-established print media distributors (such as NewspaperDirect Argentina), to entrepreneurs looking for new business opportunities (such as NewspaperDirect Sweden, iMedia Ltd. in the Seychelles, and The Concierge in Saint Barts). Together, NewspaperDirect's 108 License Partners now serve multiple cities from 105 countries worldwide: from Johannesburg to Jakarta, Lisbon to Los Angeles, Nepal to New York City, and Ethiopia to Chile.
Patrick Menhorn, an entrepreneur who has been involved with NewspaperDirect in Thailand for over three years, has been so successful that he is now recruiting new sub-licensees and expanding his business into the Philippines. "Working with our eight partners in Thailand, we have grown to become one of NewspaperDirect's largest distributors worldwide. The ability to print and deliver same-day editions of key international newspapers has been a great hit with the tourist and expatriate markets in Thailand and we expect to be just as successful with our expansion into the Philippines," he said.
NewspaperDirect continues to develop and grow its License Partner network, particularly in developing countries where traditional newspaper distribution is still limited, but demand for these newspapers is high.
"The growth of our License Partner network is strategic to our business plan," said Alexander Kroogman, CEO of NewspaperDirect. "Our License Partners bring decades of experience and an entrepreneurial spirit that ensures that our publishers benefit from an unmatched global distribution capacity. Meanwhile, consumers can enjoy their favorite publications from all over the world, delivered on the day they are published, no matter where they are."
For more information about NewspaperDirect's License Partner network visit: http://www.newspaperdirect.com/solutions/distributors.aspx
About NewspaperDirect Inc.
Founded in 1999, NewspaperDirect Inc. is the world leader in multi-channel newspaper and magazine content distribution and monetization. NewspaperDirect offers over 595 newspaper and magazine titles through a global network of more than 1200 print locations in 105 countries, delivering them to hotels, libraries, cruise ships, corporate offices, retail outlets, home subscribers and Web browsers everywhere.
The company also leverages its extensive content base and leading-edge technology to offer PressDisplay.com, the largest online newspaper kiosk in the world. PressDisplay.com provides consumers, corporations and libraries instant access to hundreds of newspapers and magazines from around the world, on PCs, Macs, BlackBerrys, iPhones and smart mobile devices.
NewspaperDirect's SmartEdition ePaper solution, powered by PressDisplay technology, fits every publisher's needs with zero investment and zero operational cost. With SmartEdition, a publisher's subscribers benefit from anywhere/anytime access to current and back issues of their publications, while enjoying premium digital features such as voice, translation, sharing, blogging and advanced searching.
As a Microsoft Premium Partner, NewspaperDirect develops content applications for Tablet PCs and Ultra-Mobile PCs. To learn more, visit http://www.newspaperdirect.com.
Contact:
Tim Cox | ZingPR, tim @ zingpr.com, +1-650-369-7784
###