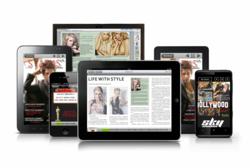 NewspaperDirect's cutting-edge technology and massive distribution platform enables us to reach millions of readers worldwide. With this partnership we've been able to dramatically enhance our footprint — and the possibilities for growth are just endless.
Vancouver, Canada (PRWEB) October 18, 2012
STATUS LA Magazine, Hollywood's latest must-read magazine, has selected NewspaperDirect (ND) to launch its high-impact publication on tablets, mobile and the Web. Virtually overnight, and with no investment in IT infrastructure, STATUS LA Magazine will be able to broaden its global distribution to millions of potential readers who access ND's vast library of digital magazines and newspapers via its PressReader apps and PressDisplay.com website.
STATUS LA Magazine launched its digital and print editions simultaneously at a red-carpet party celebrating Hollywood's sexiest angels and demons in its initial distribution to over 13 million subscribers worldwide. The highly visual, celebrity-focused magazine has instant distribution on Apple iPad and iPhone, BlackBerry PlayBook as well as a wide range of Android and Windows tablets. STATUS LA Magazine is taking full advantage of the enhanced digital replica experience offered by ND's technology, which delivers full-color, high-resolution content and images on all the latest devices.
"Working with Steve Chapman and the team at NewspaperDirect has been a fantastic experience," said Timothy Woodward Jr., publisher of STATUS LA Magazine.
"Their cutting-edge technology and massive distribution platform enables us to reach millions of readers worldwide. With this partnership we've been able to dramatically enhance our footprint — and the possibilities for growth are just endless," added Lauren de Normandie, editor of STATUS LA Magazine.
"We're delighted to be working with such a vibrant and high-energy publisher who sees the potential for engaging with a new generation of mobile-centric readers," said Alex Kroogman, CEO of NewspaperDirect. "Not only will PressReader provide an immersive reading experience that will delight existing readers, its ability to immediately distribute STATUS LA Magazine to new global audiences will significantly expand the publisher's reach, opening new revenue and advertising opportunities for them."
ND's PressReader mobile apps automatically optimizes STATUS LA Magazine for any device, giving readers advanced features such as:

Presentation of the entire magazine in high resolution
Two modes of reading — high-definition replica and "SmartFlow" tablet-optimized presentation
Highly tactile and interactive reading experience
Flip pages as if reading the print edition
Easy navigation using page thumbnails or table of contents
On-demand narration of articles
Printing articles or individual pages
Sharing stories through email and on Facebook and Twitter
Copying and pasting articles into popular clipping applications such as Instapaper and Evernote
STATUS LA Magazine is available worldwide on the PressReader mobile app and PressDisplay.com effective October 19, 2012. For a limited time, STATUS LA Magazine is available free of charge to PressReader and PressDisplay.com users worldwide. Status Publications is also planning a white-labeled iPad and iPhone app release of STATUS LA Magazine using ND's SmartEdition technology for the end of 2012.
About NewspaperDirect Inc.
NewspaperDirect delivers the world's newspapers and magazines to millions of readers the way they want to receive them — in print, online, or on their mobile device, tablet or eReader — wherever they live, travel, work or play. With the most innovative digital publishing technology in the industry and the only zero operational-cost business model, NewspaperDirect is recognized as the world leader in multichannel content distribution and monetization, and is the chosen partner of more than 3,000 publishers from 99 countries.
NewspaperDirect's flagship application, PressReader and its companion online service, PressDisplay.com, deliver the most authentic newspaper and magazine reading experience on PCs, Macs, smartphones, eReaders and tablets running iOS, Android, Windows and Playbook operating systems. Today, millions of tablets come preloaded with PressReader from a growing list of leading manufacturers including Microsoft, ASUS, BlackBerry, HTC, Kobo and Samsung.
SmartEdition, powered by PressDisplay technology, offers publishers a fully customizable digital edition platform with powerful and proprietary back office reporting and analysis tools (Reading Map, Ad Value Map) that help them optimally manage their content and advertisers. NewspaperDirect provides full hosting, payment acceptance, customer service management, and technical support.
PressDisplay.com, PressReader and SmartEdition are trademarks or registered trademarks of NewspaperDirect Inc. All other trademarks and registered trademarks belong to their respective owners.