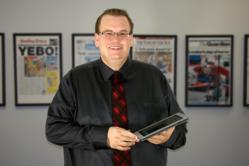 Magazine and newspaper publishers will find a welcome home for their digital editions with the only application on the market that combines their publications in one monthly subscription.
Vancouver, BC (PRWEB) October 16, 2012
NewspaperDirect (ND), the world leader in multi-channel newspaper and magazine content distribution and monetization, has appointed Steve Chapman as Director, Publishing.
Steve comes to ND from Research In Motion (RIM), where he most recently held the position of Global Head of Published Media, Strategic Business Development. Steve was responsible for shaping the strategy for published media on the upcoming BlackBerry 10 platform, while managing RIM's relationships with some of the world's most prestigious publishers. During that time, he also worked with top aggregated content providers, including NewspaperDirect, which preloads ND's award-winning digital newspaper and magazine application, PressReader, on BlackBerry PlayBook tablets worldwide.
In his new role with ND, Steve will continue working with publishing partners of all sizes from around the world that are distributing their content through PressReader and its companion online service PressDisplay.com. He will also help them expand their digital reach through their electronic editions and branded applications built on ND's SmartEdition platform.
"I am thrilled to be joining the ND team and working for a company that is committed to consistently delivering and driving success for its content partners," said Steve. "Magazine and newspaper publishers will find a welcome home for their digital editions with the only application on the market that combines their publications in one monthly subscription."
ND is witnessing unprecedented demand from magazine publishers for its robust and highly scalable ePublishing solutions, proven in the fast-paced newspaper industry. To date, over 500 magazine titles have joined the company's digital distribution network as publishers recognize the high value ND's solutions bring to them from both a technology and market perspective. With just one PDF, ND makes magazine publishers' content instantly available to millions of readers worldwide on whatever device they choose, as well as to thousands of libraries, businesses, hotels, cruise lines, airlines and at major events.
"I am extremely pleased to welcome Steve to the ND publishing team," said Nikolay Malyarov, VP of Publishing and Legal Affairs. "With his wealth of experience working with global publishers I am excited about the potential Steve not only brings to ND, but to magazine publishers who are quickly discovering how ND's ePublishing solutions bring them immediate global distribution to audiences and channels they could not reach on their own."
Steve will be meeting with publishers at the AMC 2012 Magazine Media Conference in San Francisco (14-16 October), where PressReader is a sponsor of the MPA event, and the upcoming FIPP 4th Ibero-American Magazine Media Conference in San José, Costa Rica (29-31 October), where the company is not only sponsoring the event but is also taking part in a panel entitled "Managing Content in a 360˚ World."
About NewspaperDirect Inc.
NewspaperDirect delivers the world's newspapers and magazines to millions of readers the way they want to receive them — in print, online, or on their mobile device, tablet or eReader — wherever they live, travel, work or play. With the most innovative digital publishing technology in the industry and the only zero operational-cost business model, NewspaperDirect is recognized as the world leader in multichannel content distribution and monetization, and is the chosen partner of more than 3,000 publishers from 99 countries.
NewspaperDirect's flagship application, PressReader and its companion online service, PressDisplay.com, deliver the most authentic newspaper and magazine reading experience on PCs, Macs, smartphones, eReaders and tablets running iOS, Android, Windows and Playbook operating systems. Today, millions of tablets come preloaded with PressReader from a growing list of leading manufacturers including Microsoft, ASUS, BlackBerry, HTC, Kobo and Samsung.
SmartEdition, powered by PressDisplay technology, offers publishers a fully customizable digital edition platform with powerful and proprietary back office reporting and analysis tools (Reading Map, Ad Value Map) that help them optimally manage their content and advertisers. NewspaperDirect provides full hosting, payment acceptance, customer service management, and technical support.
PressDisplay.com, PressReader and SmartEdition are trademarks or registered trademarks of NewspaperDirect Inc. All other trademarks and registered trademarks belong to their respective owners.