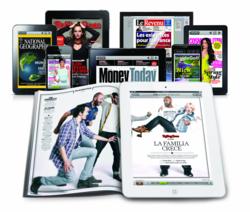 Readers are embracing, and willing to pay for, enhanced digital replicas of their favorite publications —much more than repurposed web content or PDFs.
London (PRWEB) May 29, 2012
After adding numerous enhancements aimed at optimizing its technology for the latest high-definition tablets, NewspaperDirect (ND) is witnessing unprecedented demand from magazine publishers for its ePublishing solutions. Publishers of all sizes and types of content worldwide are recognizing that ND's years of investment in developing innovative technology, faster processing capabilities, and a superior user interface for newspapers is exactly what they need in order to offer a more compelling digital experience to their readers. Today, of the 2,700+ publications available on ND's global distribution network, more than 250 of them are magazines.
According to Nikolay Malyarov, VP of publishing and legal affairs, the combination of superior technology and a large and loyal global audience are two key reasons why magazines are adopting ND solutions. "For years, we've been synonymous with digital newspaper publishing — more specifically with digital replicas. And although industry pundits dismissed replicas not so long ago, the fact is that readers are embracing, and willing to pay for, enhanced digital replicas of their favorite publications —much more than repurposed web content or PDFs. We give readers what they want – the content they love on whatever screen they chose to read it. And our millions of readers want newspapers and magazines."
"Working with NewspaperDirect´s team is one of the best experiences I've had. We have created a remarkable product that offers replicas of our newspapers and magazines of the highest quality," said Ezequiel Fonseca Zas, business manager at La Nación Digital. "Kiosco La Nación is one of the paths our company is taking to innovate in the world of publishing. We have 142 years of history and we were looking for 100 more! NewspaperDirect is a strategic partner in that journey."
Unlike other digital newsstands, which only offer individual subscriptions to publications, ND's PressReader app, and its online service, PressDisplay.com, distribute thousands of B2C and B2B publications to millions of daily readers — with just one subscription.
"Our solutions offer unique advantages to magazine publishers," said Malyarov. "First, our one-subscription all-content access approach presents their publications to millions of readers who return daily to read the latest newspaper issues published every minute of every day. Second, with PressReader's recommended and related articles, magazine brands and content are continually brought to our subscribers' attention long after their original day of publication, increasing audited circulation and the shelf life of magazines. Third, we instantly expand their global audience in thousands of libraries, corporations, governments, hotels, aviation facilities, cruise ships, and luxury yachts. And finally, we offer a fully customizable, platform-agnostic ePublishing solution for their branded digital editions and applications, offering both replica and non-replica reading options and a wealth of innovative digital features for their subscribers to enjoy."
More than 2,700 leading publishers, including The New York Times Company, Cosmopolitan, National Geographic and Axel Springer AG have chosen to partner with ND. ND offers magazine publishers a complete ePublishing solution that provides higher levels of reader engagement via two core technologies:
PressReader – ND's award-winning reading app for computers, tablets, smartphones and eReaders
■ Instant inclusion in the industry's only truly global digital newspaper and magazine kiosk available at PressDisplay.com, offering millions of daily readers single-subscription, all-content access to the world's press
■ Instant access to readers in thousands of libraries, hotels, cruise ships and aviation facilities worldwide
■ Instant distribution on all the latest and popular tablets, smartphones and operating systems
■ Two modes of reading — high-definition replica and SmartFlow tablet-optimized presentation
■ Direct print-to-digital connectivity with just a snap of a camera
■ No-cost digital distribution solution for publishers
■ PressReader is preloaded on Samsung, Microsoft, BlackBerry, ASUS, HP, HTC, Kobo and LG devices
SmartEdition – ND's fully customizable ePublishing solution
■ The industry's most advanced and proven ePublishing solution, with a platform-agnostic, open architecture that ensures easy and fast integration with any third-party applications
■ Already the solution of choice for 1,000 branded digital editions (e.g. The Boston Globe and The Guardian), regional newspapers, and digital magazine kiosks (e.g. Kiosko y más and Kiosco La Nación)
■ Engaging and immersive reading experience — online or offline
■ PressReader-powered branded applications for computers, tablets, eReaders and smartphones
■ Innovative digital features such as instant translation, on-demand audio, article sharing through email and social media
■ Advanced analysis and reporting tools, ecommerce and customer support
■ Publisher-focused, zero-operational-cost business model
About NewspaperDirect Inc.
NewspaperDirect (ND) delivers the world's newspapers and magazines to millions of readers the way they want to receive them — in print, online, or on their mobile device, tablet or eReader — wherever they live, travel, work or play. With the most innovative digital publishing technology in the industry and the only zero-operational-cost business model, ND is recognized as the world leader in multi-channel content distribution and monetization, and is the chosen partner of more than 2,700 publishers from 96 countries.