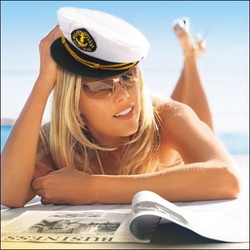 © Elena Elisseeva | Dreamstime.com
Newport, RI (Vocus) June 24, 2008
NewspaperDirect Inc., the world leader in multi-channel newspaper and magazine content distribution, is seeing record orders for its print-on-demand newspaper services from the yachting industry. ND Press, the company's flagship print-on-demand newspaper solution, is now installed on 21 of the world's 100 largest yachts, and demand has accelerated in recent months, with 84 installations on yachts around the world.
ND Press is fast becoming a standard feature on leading super-yachts worldwide as owners, captains and yacht management companies request the service so they can print hometown newspapers while at sea and stay abreast of local news and sports. In the charter sector, demand is driven by guests, who are coming to expect their favorite daily when on board. Crew retention is another factor, with some owners extending the service to employees so they can access to their hometown newspapers.
Captain Heinz Krodel of luxury motor yacht Zoom Zoom Zoom agrees: "All our guests love it and they are pleasantly surprised when we present them with their favorite newspaper with their first breakfast on board. It is a very nice addition to the service we provide for both our owner and our charter guests, and we wouldn't want to be without it."
"Even with today's most advanced technology at their fingertips, it is the printed newspaper that top business executives and the super-wealthy reach for while at sea or in a foreign port," said Alexander Kroogman, CEO of NewspaperDirect. "ND Press means yacht owners can print a daily newspaper the moment the title is available on NewspaperDirect's global network -- and often before it is even available on a newsstand back home."
With ND Press, hardcopies of the world's most prestigious newspapers are available on demand, even in the middle of the Indian Ocean. Yacht owners, their guests and crew have their choice of daily newspaper, printed directed on board the yacht, using standard printing equipment. Transmitted via satellite, over 690 titles are available in their original format. Premium titles available to guests include The Times (of London), The Wall Street Journal, The New York Times, Frankfurter Allgemeine Zeitung, Corriere della Sera, Le Monde, De Telegraaf, El Pais, Mainichi Shimbun and The Australian.
About NewspaperDirect Inc.:
Founded in 1999 and based in Vancouver, Canada, NewspaperDirect Inc. (http://www.newspaperdirect.com) is the world leader in multi-channel newspaper and magazine content distribution and monetization.
NewspaperDirect offers more than 690 newspaper and magazine titles through its Print-On-Demand ND Press service, which enables hotels, retailers, yachts and businesses to conveniently download and print hundreds of national and international titles on-site using their existing in-house equipment.
NewspaperDirect also distributes its publications through a global network of more than 1,200 print locations in 105 countries, delivering them to hotels, libraries, cruise ships, corporate offices, retail outlets, and home subscribers.
Contact: Tim Cox, ZingPR, tim @ zingpr.com, +1-650-369-7784
Yacht photograph credit: "© Elena Elisseeva | Dreamstime.com"
###