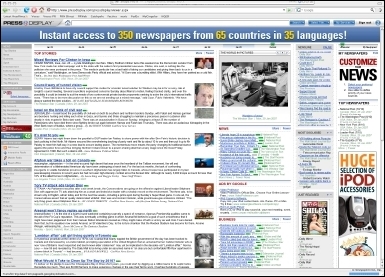 Being informed immediately of important news is a must-have feature for busy executives who need to monitor their company and products, their customers, their competition, or the market in printed media
Vancouver, BC (Vocus) January 30, 2007
NewspaperDirect Inc. today announced that its highly acclaimed online aggregated news site, PressDisplay.com now offers free media monitoring services for the print editions of more than 350 leading newspapers from around the world.
Quickly and easily set up monitors to track companies, advertisements, competitors, partners or clients in hundreds of international printed newspapers -- at no cost.

Share relevant and timely news articles from around the world with friends, employees, clients or shareholders.
Instantly translate articles in up to 12 languages; make international news more accessible to employees in global companies.
Target applications and uses
There are many online monitoring services available to track topics and keywords mentioned in blogs, media websites and other online media. NewspaperDirect is the first company to offer no-cost monitoring for local, national and international printed newspapers.
Consumers, investors, companies and their marketing and PR agencies rely heavily on online news searches from services such as Google News or Yahoo News for notification when a news article appears online that contains a specific word or phrase. However, these services can only locate online mentions, and only for those media outlets that do not require a subscription to see the original content.
With PressDisplay.com, users can set multiple keyword and phrase monitors, and receive automatic emails on their PC or smart mobile device the moment an article that includes their search terms is published in newsprint. With one click they are connected to the referring story in its original context in the paper, helping them stay on top of the latest news where ever they are - often hours before the story ever hits the newsstands.
"Being informed immediately of important news is a must-have feature for busy executives who need to monitor their company and products, their customers, their competition, or the market in printed media," said Alexander Kroogman, CEO of NewspaperDirect. "At home, in the office or on the road, with PressDisplay.com they can be automatically alerted when news breaks that affects them, allowing them to quickly respond to any potential opportunity or crisis."
What PressDisplay.com offers
PressDisplay.com provides access to exact replicas of every printed issue in its roster of global newspapers, and also shows the article in its original context, exactly as it appears in the printed edition.
Key benefits:
Understand prominence. Business executives and PR agencies can see exactly how a company or product (or advertisement) was positioned in the printed publication relative to other stories or advertisements (e.g. section and page placement, font size, position of pictures, format, etc.).
Build better clip reports. Copies of the original, color article, complete with any graphics, can be added to media kits or used in legal documentation where referencing original printed newspapers is required.
Keep up with the news. Through newspaper alerts and RSS feeds, full editions of all PressDisplay.com publications can be delivered to users' inboxes or RSS readers as soon as the titles are released for print.
Articles can be translated on the fly in up to 12 languages, so stories that reference a company or product in a foreign language newspaper are instantly accessible to readers in their native language. Users who are vision-impaired can use the "listen" feature; PressDisplay can read the article to them.
Share and collaborate. Smart bookmarks allow subscribers to set up folders for hot topics in their industry, competitors, partners, or clients, providing a central repository that everyone in their company can access.
With a corporate PressDisplay.com subscription, anyone in the company can contribute to these shared folders with their own search results, creating a collaborative environment for sharing market, industry, competitive, partner and customer news.
Flexible subscription plans available
PressDisplay.com offers flexible subscription plans (free, to pay-as-you-go, to personal unlimited, corporate and professional), allowing users to try before they buy. Visitors to http://www.pressdisplay.com can create up to three monitors, free of charge, and track items of interest (e.g. company name, person, product, competition or hot topic) and choose to have the results sent to their email inbox, as soon as articles are published or at a specific time each day.
About NewspaperDirect Inc.
Founded in 1999 and based in Vancouver, BC, Canada, NewspaperDirect Inc. is the world leader in digital delivery and local printing of same-day newspapers from around the world. NewspaperDirect offers hundreds of newspaper and magazine titles through a global network of more than 800 print locations in more than 85 countries, delivering them to hotels, libraries, cruise ships, corporate offices, retail outlets, home subscribers and Web browsers everywhere. The company also leverages its extensive content base and leading-edge technology to offer PressDisplay.com, which provides consumers with online, instant access to hundreds of newspapers and magazines from around the world, via computer or smart mobile device. As a Microsoft Premium Partner, NewspaperDirect develops content applications for Tablet PCs and Ultra-Mobile PCs.
To learn more, visit http://www.newspaperdirect.com.
###