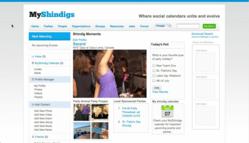 MyShindigs has established itself as a strong social media brand that caters to the needs of its members and the online community...
Boston, MA (PRWEB) December 04, 2012
The ground breaking and innovative social media website MyShindigs.com continues to attract a broad base of membership to its online social platform. Part of the latest surge in membership is due to the recent announcement that the site has introduced a new feature that allows event integration with Facebook. The free and increasingly popular events creation, management, promotions and broadcast platform is attracting everyone from individual users to event planners, from charities to those in the private sector, and in some cases a combination of the above demographics.
One case in point is a member by the name of Alex Wilson. Soon after MyShindigs.com launched Alex signed up and became one of the social networking sites first members. Alex is a young successful realtor that is in the top 1% in downtown condo sales in Toronto, Canada. The downtown Toronto RE/MAX Brokerage has seen Alex quickly rise to the top of the agency. Recently, Alex's real estate business AlexJWilson.com and MyShindigs have entered into a new professional sponsorship agreement. 'I first used the site for one of my charitable events that I host annually. These events bring together new, old and potential clients as well as raising money and awareness for a variety of worthy causes. Not only did the event sell out, MyShindigs enabled me to expand my audience and tap into a new socially aware demographic that I was interested in communicating with.' says Alex.
Membership on MyShindigs is increasing with every passing day. The strong rise in membership is due in part to the fact that the site is free to use versus individuals and organizations having to license costly events management software. Another reason for the soaring online signup is because the site helps those interested in creating events to put all the aspects of those given events together easier and in a more user friendly manner. MyShindigs provides an improved experience for its members; which allows for the creation of bigger and more successful parties and events. 'We are excited and energized by this new partnership that we have reached with Alex. It reinforces one of our objectives to make MyShindigs a website that individuals, charities and the corporate world can all use.' say co-founders Jason Andrews and Matthew Tautt.
Part of the agreement reached has MyShindigs and AlexJWilson.com involved in a variety of cross-promotional efforts and events over the coming year which includes sponsored video content in the Shindig TV section of the website. 'Self-employed individuals and SME's can use the platform to advance their business goals and objectives' add the enthusiastic site co-founders.
The site is free and a great alternative to subscribing to event management software platforms. MyShindigs not only offers event creation, management and broadcast tools, it also offers a medium to share budgeting and other tools with event planners, entrepreneurs, and other members as well as leveraging site members who are interested in attending locally held parties and events for purposes of networking and socializing with like-minded professionals.
In less than 1 year since the site was launched, MyShindigs has already established itself as a strong brand that caters to the needs of its users and the online community as a whole. With membership continuing to multiply it will be interesting to see how MyShindigs newest members contribute to the direction and growth of the social media power.
About MyShindigs
MyShindigs is a social networking platform that specializes in allowing members to plan, organize, manage, promote and broadcast their public, private and company events and parties. MyShindigs allows users to search out, share, follow and join each other's events and parties of interest to expand their social calendar throughout their lives. For more information, visit http://www.myshindigs.com.