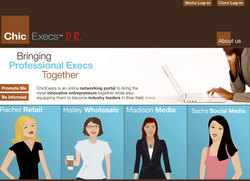 This is brilliant. I LOVE it!
San Diego, CA (PRWEB) April 3, 2009
Media contacts in today's world are forced to dig through hundreds of story pitches in their email inboxes every day--but now they can get straight to the point with ChicExecs Media and Client Social Network.
This ground-breaking news PR builder--ChicExecs.com system--provides a cost-effective Client service subscription, allowing hundreds of trendy new women-targeted businesses to reach out to the media--in one central place. Media response has already been phenomenal, "This is brilliant. I LOVE it!" and "I love the Media Login system. It is user-friendly and extremely convenient."
Due to the new automated social network, ChicExecs offers a realistic PR firm pricing model rather than spending thousands and thousands per month on PR fees. A recent ChicExecs Client commented, "The new service you guys are providing is really ground-breaking and I'm glad to be a part of it. Thanks so much".
ChicBlvd Inc owns and operates ChicExecs Public Relations, one of three divisions. Steady hands manage the business with 25 years of experience in advertising, marketing, and public relations and 14 years of business management, retail, and sales. After experimenting with ChicBlvd Magazine and the successful product launch of chicBuds electronics, the company began recognizing a need in the media world.
The media no longer needs to spend valuable time searching for content and story ideas. Reach "out of the box" with ChicExecs PR. Media contacts log in to a free account at ChicExecs.com and encounter a central place to find focused and to the point information. Organize and keep track of product sample requests. Concentrate on connecting with only our Clients you are most interested in and request samples or download their hi-res images at no cost. To join the ranks of publications looking for convenience and hot new products all in one place, visit the following link: News PR Builder__ChicExecs Social Media Network__.
When the Media and Client Social Network was first launched, it allowed PR Clients to log on to accounts and upload blurbs and photos of their sizzling hot, fresh products. During this phase, the media was separated into categories--i.e. Fashion, Parenting, Wedding, Pet, Home, Health, Travel--and updated by emailing when relevant information was available. Direct connection between Clients and the media quickly became necessary.
Phase II allowed the media to create their own ChicExecs.com accounts for the all-inclusive news PR builder. Members can view updates in every category and openly request samples from the specific Clients. With Phase III in the development process, ChicExecs media users can look forward to being able to make the most out of the automated social system. They will be capable of posting story idea requests, then receiving only relevant pitches from PR Clients, all within a controlled network where exchanging personal emails are not encouraged. Therefore, eliminating the middle man "telephone" game.
The new ChicExecs Social Media Network is soon to be replacing search engine resources as the one-stop portal for all things news-worthy in the women-geared product arena. Media will soon be able to search products based on themes or seasonal features--i.e. Breast Cancer Awareness, Mother's Day, Holiday, Go Green.
ChicExecs PR has over 50 Clients with original, creative businesses and has spent 5 years hand selecting over 2,000 unique product companies and websites to partner with. Clients of ChicExecs PR have been featured in magazine publications such as Cosmo, InStyle, Us Weekly, Parenting, Pregnancy & Newborn, Modern Bride and many more. TV media outlets include Extra Tv, WE tv, and FOX News and social networks such as mom bloggers, twitters and vloggers.
###