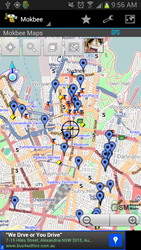 MokBee Maps allows users to customize their mapping experience! A great addition to any phone.
Washington, DC (PRWEB) October 10, 2014
"MokBee Maps" was featured on NewsWatch as part of its monthly AppWatch, which features the latest and coolest mobile applications on the iOS, Android, and Windows markets. Andrew Tropeano, a mobile technology expert and host of NewsWatch, conducted the app review and shared with viewers how it allows users to personalize their mapping experience.
Most consumer's go-to mapping application is the one that came with their phone. Unfortunately, those apps are filled with glitches and there are more powerful mapping apps available.
MokBee Maps for Android devices lets users personalize their mapping experience by giving them the choice of map provider. It also allows users to continuously track their movements using the follow mode feature so they can see their exact location at any moment. If a user wants to remember a certain place, they can add it to their list of bookmarks, making it incredibly easy to find again.
Another great feature MokBee offers is the ability to get an instant address by long clicking on the map. Users can also update information on points of interest. So if that restaurant up the street goes out of business, a user can update its status.
Right now, there are over 500,000 points of interest worldwide with users adding more every day. To learn more about MokBee Maps, download it for free from the Google Play store, or head to http://www.MokBee.com.
About NewsWatch
NewsWatch is a weekly 30-minute consumer oriented television show that airs on the History Channel, FYI Network, and ION Network. NewsWatch regularly features top technology products and services, mobile applications for iOS, Android, and Windows devices, unique and beautiful travel destinations around the world, health and medical tips, and entertainment interviews on the show. NewsWatch airs on the History Channel at 6:00 – 6:30 AM ET/PT and on the FYI Network from 7:00 – 7:30 AM ET.
NewsWatch is located in the greater Washington, DC area and has been on air for over 25 years. For more information or to watch the most recent episode, visit http://newswatchtv.com/appwatch.html.