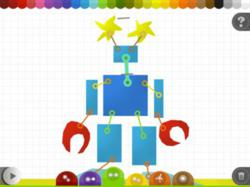 Washington, DC (PRWEB) January 02, 2013
NewsWatch, a nationwide television show, recently aired a news segment about "Creatorverse", a new iPad app by Linden Lab. The segment aired as part of AppWatch, a weekly review of the top apps in the marketplace.
NewsWatch recently discovered Creatorverse, a sandbox style app that fosters a user's creative side. Creatoverse is produced by Linden Lab, the developers of Second Life, and it allows users to design unique creations, from circular objects to motors, to ramps with jumping cars, and then set those designs in motion with simple commands.
The Creatorverse interface is intuitive and easy to understand for users of all ages. Andrew Tropeano, host of AppWatch, performed a demo of the app and was able to draw a car with two wheels on a road with several jumps. He added directional commands, gravity, and motion, then sent the car flying. It was easy, fun, and thought provoking.
Users can create their own designs or they can remix other Creatorverse user's designs already made and shared to the cloud-based "Creatorverse Galaxy". Once users create their design, they can save it to their device or share it to the Creatorverse Galaxy for everyone to play with and make their own. Creatorverse is a unique product that stimulates user's creativity while still being fun and easy to use.
Creatorverse is currently available for iOS, Android, and Amazon devices for $4.99.
For more information or to download the "Creatorverse" app, go to the Creatorverse website.
NewsWatch is a weekly 30-minute consumer oriented television show that airs on the ION Network Thursday mornings at 5:30am across the nation. NewsWatch regularly features top travel destinations, health tips, technology products, medical breakthroughs and entertainment news on the show. A recent addition to NewsWatch, AppWatch is a weekly segment that provides viewers app reviews and game reviews of the latest and hottest apps and games out on the market for iOS and Android devices. The show airs in 180 markets nationwide as well as all of the top 20 broadcast markets in the country, and is the preferred choice for Satellite Media Tour and Video News Release Distribution.
For more information, head to newswatchtv.com. To watch more NewsWatch segments, visit the YouTube Channel, http://www.Youtube.com/TVConsumerWatch.