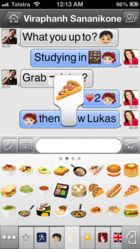 Unlike other messaging apps that sell stickers, these icons can be inserted directly into text messages
Washington, DC (PRWEB) May 08, 2013
Cyphercon was featured on NewsWatch as part of its popular segment, AppWatch, that takes a look at the latest and coolest mobile applications on the market. Andrew Tropeano, host of AppWatch, reviewed the mobile application for the NewsWatch audience.
According to recent surveys more and more people are looking for expressive ways to communicate with their friends and family. Cyphercon, which debuted at the 2013 South By SouthWest, is a mobile messaging application with over 1,200 original emoticons. Unlike other messaging apps that sell stickers, these icons can be inserted directly into text messages.
Cyphercon was created in response to international demand for ethnically inclusive emoticons, ranging from President Barack Obama to Kate Middleton. Once users download the app, they can text anyone across the globe for free, as long as they have the app installed as well.
Cyphercon also provides users with time zones for text recipients to show whether it's an appropriate time to text or not. Users also have the ability to create and customize their own keyboard of favorited icons. The app developers will publish new icons every month; however, the app comes preloaded with 400 free emoticons. Andrew Tropeano, host of AppWatch at NewsWatch, tested the application on air and recommended it for use.
To download Cyphercon, head to http://www.cyphercon.com.
NewsWatch is a weekly 30-minute consumer oriented television show that airs monthly on the History Channel and weekly on the ION Network. NewsWatch regularly features top technology products, unique and beautiful travel destinations, health tips, medical breakthroughs, and entertainment news on the show. A recent addition to NewsWatch, AppWatch is a weekly segment that provides viewers app reviews and game reviews of the latest and hottest apps and games out on the market for iOS and Android devices.
The show airs in 180 markets nationwide as well as all of the top 20 broadcast markets in the country, and is the preferred choice for Satellite Media Tour and Video News Release Distribution.
For more information or to watch the latest segments featured on the show, head to http://www.NewsWatchTV.com.