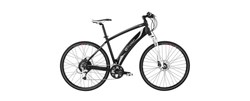 I have owned the Neo Cross for almost a month now, and I have to tell you that having this bike has been a life-changing experience for me.
Washington, DC (PRWEB) August 30, 2013
Electric Bikes by Easy Motion, The Neo Cross and the Neo Jumper, were featured on NewsWatch as part of its popular Technology Report segment, that offers technology reviews of the latest and coolest products and services available on the market. Andrew Tropeano, host of the segment, shared with viewers how these electric bikes are an affordable alternative means of transportation.
According to the Department of Transportation, 50% of the trips civilians make are under 3 miles. Coupled with high gas prices and the health benefits of an active lifestyle, it's no surprise that more people are turning to bikes as an alternative means of transportation. And for the millions of Americans that can't pedal for extended periods of time, electric bikes are available.
The Neo Cross and the Neo Jumper by Easy Motion are award-winning bikes that are light, balanced, and beautifully designed with the battery integrated in the middle of the frame, rather than the back of the seat. While the design is beautiful, they also make it easier for people to get into riding and improve their quality of life. According to Easy Motion, there are numerous examples of people who were physically unable to ride but picked up cycling because of their e-bikes.
For people looking for a bike that's stylish, light, and affordable, NewsWatch recommended the Easy Motion Neo Cross and Neo Jumper. Visit http://www.EmotionBikesUSA.com to learn more.
NewsWatch is a weekly 30-minute consumer oriented television show that airs monthly on the History Channel and weekly on the ION Network. NewsWatch regularly features top technology products, unique and beautiful travel destinations, health tips, medical breakthroughs, and entertainment news on the show. A recent addition to NewsWatch, AppWatch is a weekly segment that provides viewers app reviews and game reviews of the latest and hottest apps and games out on the market for iOS and Android devices.
The show airs in 180 markets nationwide as well as all of the top 20 broadcast markets in the country, and is the preferred choice for Satellite Media Tour and Video News Release Distribution.
For more information or to watch the latest segments featured on the show, head to http://www.NewsWatchTV.com/technology.html.