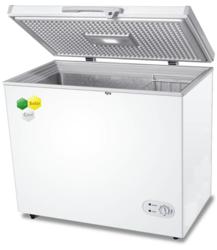 EcoSolarCool's solar powered refrigerators and freezers can save viewers money.
Washington, DC (PRWEB) June 18, 2013
EcoSolarCool was featured on NewsWatch as part of its popular consumer tech segment, that takes a look at the latest and coolest technology advances and services available on the market. Andrew Tropeano, host of the segment, shared with viewers how EcoSolarCool's solar powered refrigerators and freezers can save viewers money.
With the rising cost of energy in the United States and growing concerns of pollution, more consumers are looking to alternative energy sources to power their homes. The most popular form of alternative energy is solar. Unfortunately, installing a 600 square foot solar system is incredibly expensive, so consumers are searching for more affordable options.
To provide viewers a solution to this growing demand, NewsWatch featured EcoSolarCool, a US based brand with a line of solar powered refrigerators and freezers. Each product comes in a variety of sizes and can replace a normal fridge or freezer for approximately the same price. The line can be powered by a solar panel that can be installed outside with a battery that stores excess energy for nighttime or overcast days. They both have the same functionality and internal temperatures of a normal AC-powered fridge or freezer.
EcoSolarCool's refrigerator line comes in silver-grey and white and the freezers are available in white only. The freezer ranges from $850.00 to $1,255.00 and the refrigerator ranges from $1050.00 to $1275.00. EcoSolarCool is currently running a 10% discount promotion on all products for purchases made before June 23rd. To learn more or buy one, head to http://www.ecosolarcool.com.
NewsWatch is a weekly 30-minute consumer oriented television show that airs monthly on the History Channel and weekly on the ION Network. NewsWatch regularly features top technology products, unique and beautiful travel destinations, health tips, medical breakthroughs, and entertainment news on the show. A recent addition to NewsWatch, AppWatch is a weekly segment that provides viewers app reviews and game reviews of the latest and hottest apps and games out on the market for iOS and Android devices.
The show airs in 180 markets nationwide as well as all of the top 20 broadcast markets in the country, and is the preferred choice for Satellite Media Tour and Video News Release Distribution.
For more information or to watch the latest segments featured on the show, head to http://www.NewsWatchTV.com.