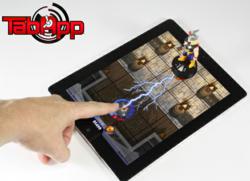 Washington, DC (PRWEB) December 20, 2012
NewsWatch, a nationwide television show, recently aired a news segment about "HeroClix", a new app using comic book characters from popular franchises. The segment aired as part of "AppWatch", a weekly review of the top apps in the marketplace.
To get started, download the HeroClix TabApp application for free in the Apple App Store. Then unlock new comic stories and missions with each super hero figure. Unlock over 15 maps and follow along the unique storyline of each character while battling known villains. Users can challenge themselves to take out enemies at three separate difficulty levels and achieve the ultimate 3 star rating for each.
Figurines are available across multiple franchises, including Marvel Comics and DC Comics. Marvel figurines include comic book characters Wolverine, Captain America, and Iron Man. Each character has a different storyline that pops up when you place them on the screen. The marvel edition has over 30 villains and 18 different maps that users can play through.
The game has a live action, arcade style of play that is fun for anyone, ages 14+. Unlock special maps and comic scenarios with each figure. Users can take out a swarm of villains with the tap or swipe of a finger as you move on to more challenging levels. Haven't picked up a figure yet? You can still play HeroClix TabApp by selecting the "Don't Have A Figure" option from the main menu to play the demo.
HeroClix TabApp is currently available for iOS devices and is compatible with the iPad 2 and newer, as well as the iPad mini. If you don't have an iPad, HeroClix plans to announce they will be creating an Android compatible version soon. To download the app and begin playing, go to HeroClixTabApp.com or visit your itunes store and search for HeroClix TabApp. The app is currently free on the iTunes Store and figurines can be purchased through the HeroClix website.
NewsWatch is a weekly 30-minute consumer oriented television show that airs on the ION Network Thursday mornings at 5:30am across the nation. NewsWatch regularly features top travel destinations, health tips, technology products, medical breakthroughs and entertainment news on the show. A recent addition to NewsWatch, AppWatch is a weekly segment that provides viewers app reviews and game reviews of the latest and hottest apps and games out on the market for iOS and Android devices. The show airs in 180 markets nationwide as well as all of the top 20 broadcast markets in the country, and is the preferred choice for Satellite Media Tour and Video News Release Distribution.
For more information, head to newswatchtv.com. To watch more NewsWatch segments, visit the YouTube Channel, http://www.Youtube.com/TVConsumerWatch.