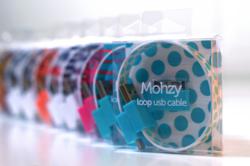 Fairfax, VA (PRWEB) April 10, 2012
Technology Expert Scott Steinberg recently spoke with NewsWatch about some of the most innovative new products that are coming out in 2012. One product that really caught his eye for its ingenuity was the Mohzy Loop USB Cable.
The Mohzy Loop USB cable is a micro USB and iPhone or iPod cable that combines fashion and utility into one simple product. It clips together with magnets to wear as a wristband or attach to a bag, and it provides battery charging and data transfer for all mobile devices including Apple iPhones and iPods and most Micro USB devices such as Android smartphones, Blackberry devices; as well as mp3 players, bluetooth, and GPS devices. The USB Loops are available in many different colors and patterns so there is never a problem with finding a fashion that suits every consumer.
The Mohzy USB Loop's are an Apple Certified Apple Adapter which means consumers will be able to charge their iPhone, iPods, and iPad with the same cable. If consumers don't want to wear it as a bracelet, then they can attach them to any metal surface such as a desk, cubicle wall and even the refrigerator, making it easy to hang notes and photographs. There is also no worry about using the magnets around other products, as these magnets will not cause interference or damage to any other electronic equipment.
What's also convenient is that the flat profile of the cable allows for easy storage in a purse or bag without worry about it getting tangled with other wires. The Loop weighs only 18 grams so it is extremely light and portable. No longer do consumers need to tote around 5 different cables for all their wireless devices when they can simply strap the USB loop onto their wrist or bag and be on the go, looking stylish at the same time. In a world where connectivity is vital, the loop is a simple yet effective tool to keep information flowing. The Mohzy USB Loop can bepurchased for $16.99 from mohzy.com.
Hailed as a top voice for today's high-tech generation by dozens of publications from USA Today to Forbes and NPR, Scott Steinberg has covered the field for 400+ outlets from The New York Times to Entertainment Weekly and Wired. A frequent on-air technology analyst for major TV networks including ABC, CBS, FOX, NBC and CNN, Scott's also a bestselling author and creator of the The Modern Parent's Guide and Business Expert's Guidebook series. More than one billion people have turned to his columns and reports for insight into all things high-tech. He is the CEO of TechSavvy Global.
NewsWatch is a weekly 30-minute consumer oriented television show that airs nationwide. NewsWatch regularly feature top celebrities, health tips, technology products, medical breakthroughs and entertainment news on the show. The show airs in 190 markets nationwide as well as all of the top 20 broadcast markets in the country, and is the preferred choice for Satellite Media Tour and Video News Release Distribution. For more information, head to newswatchtv.com