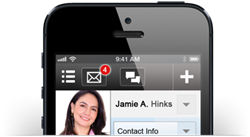 Washington, DC (PRWEB) June 29, 2014
"MyCase", an application for attorneys and their clients was featured on NewsWatch as part of its monthly Tech Report, which takes a look at the latest and coolest products in the technology world. Mallory Sofastaii, a host of NewsWatch and technology expert, conducted the app review and shared with viewers how it helps increase productivity and communication for lawyers.
According to the Bureau of Labor Statistics, 37% of all lawyers work 50 hours or more per week. That leads to late nights and work on the road. Additionally, the number one complaint against attorneys is a lack of communication with their client. For lawyers looking to increase their productivity while opening a more clear line of communication with their clients, we recommend a revolutionary software service called MyCase.
MyCase is comprehensive cloud-based legal practice management software that helps attorneys streamline their entire practice so they can practice more and manage less. The software manages day-to-day activities by helping attorneys keep track of cases, manage time and billing, organize documents and contacts, and remind them when they have an important date. MyCase is the only service that also has a client portal in its app, where clients can see select information on their case.
MyCase results in more transparency and less time spent answering phone calls or emails. Attorneys can also send messages directly to clients and share calendars and billing details through MyCase.
Users can access it through a mobile friendly website or by downloading the MyCase app on iOS, Android, or Windows devices.
To learn more, visit http://www.mycase.com.
About NewsWatch
NewsWatch is a weekly 30-minute consumer oriented television show that also airs monthly on the History Channel, Bio Channel, and ION Network. NewsWatch regularly features top technology products, unique and beautiful travel destinations, health tips, medical breakthroughs, and entertainment news on the show.
Tech Report is a weekly segment that provides viewers tech reviews of the latest and hottest consumer oriented technology products on the market.
NewsWatch airs in 180 markets nationwide as well as all of the top 20 broadcast markets in the country, and is the preferred choice for Satellite Media Tour and Video News Release Distribution. For more information or to watch the June 2014 show, visit http://newswatchtv.com.
NewsWatch airs on the History Channel at 6:00 – 6:30 AM ET/PT and on the Bio Channel from 7:00 – 7:30 AM ET.