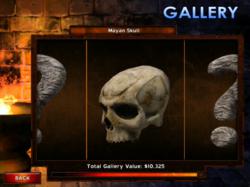 Pay Dirt: Treasures of Chichen Itza is a fun game that can also be somewhat educational too.
(PRWEB) June 14, 2013
Pay Dirt: Treasures of Chichen Itza was featured on NewsWatch as part of its popular segment, AppWatch, that takes a look at the latest and coolest mobile applications and mobile services on the market.  Andrew Tropeano, host of AppWatch, shared with viewers how the app is a virtual tour and simulated archaeological dig of one of Mexico's most famous ruins.
Chichen Itza is was one of the largest Mayan cities and is now the most visited archaeological site in Mexico. Pay Dirt: Treasures of Chichen Itza, a paid iOS game, lets users take a virtual tour and simulate an archaeological dig through its ruins. As Andrew Tropeano showed on AppWatch, the point of the game is to dig up artifacts from 20 different locations throughout Chichen Itza. Users start out at the Nunnery where they scan the ground with radar to find artifacts, then begin digging with their selected tool. To win bonus coins, users are rewarded for the speed and lack of damage during each dig. As artifacts are uncovered, they'll learn about them and the dig location. There are over 120 different artifacts waiting to be discovered.
Within PayDirt, there are multiple mini-games, including a cleaning/blowing game where users blow into the microphone to remove dust off a 3d artifact.
Pay Dirt: Treasures of Chichen Itza is a fun game that can also be somewhat educational too. It now comes in both English and Spanish, and features Retina display support. To download the app, head to iTunes and search "Pay Dirt".
NewsWatch is a weekly 30-minute consumer oriented television show that airs monthly on the History Channel and weekly on the ION Network. NewsWatch regularly features top technology products, unique and beautiful travel destinations, health tips, medical breakthroughs, and entertainment news on the show. A recent addition to NewsWatch, AppWatch is a weekly segment that provides viewers app reviews and game reviews of the latest and hottest apps and games out on the market for iOS and Android devices.
The show airs in 180 markets nationwide as well as all of the top 20 broadcast markets in the country, and is the preferred choice for Satellite Media Tour and Video News Release Distribution.
For more information or to watch the latest segments featured on the show, head to http://www.NewsWatchTV.com.