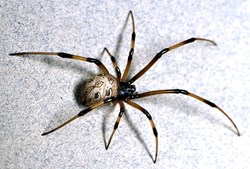 Phobia Free has helped thousands of people get over their fear of spiders.
Washington, DC (PRWEB) November 17, 2013
The "Phobia Free" mobile application by Virtually Free was featured on NewsWatch as part of its popular segment, AppWatch, that takes a look at the latest and coolest mobile applications and services on the iOS and Android market. Andrew Tropeano, host of AppWatch, conducted the app review and shared with viewers how the app can help users get over their fear and phobia of spiders.
Everyone is afraid of something; however, there is a difference between being afraid and having a phobia. Phobias are defined as having a persistent and sometimes irrational fear of an object or situation. A perfect example is arachnophobia, the fear of spiders. For some people, this phobia is so intense that it prevents them from normal activities like travelling, cleaning, or going into a dark room.
Phobia Free is an app that has helped thousands of people get over their fear of spiders. The app uses augmented reality and gamification to desensitize people to spiders and to understand them better. With the app, users can learn to relax when they see one, they can watch a virtual spider climb on their hand and take a picture, they can see situations from a spider's perspective, and can play games involving finding spiders and helping them survive situations. All of this is meant to help users cope with their phobia. The technology is so successful that the psychiatrists and developers that made it are moving into other phobias like flying, heights, and social anxiety.
To learn more or download the app, visit http://www.virtually-free.com.
About NewsWatch
NewsWatch is a weekly 30-minute consumer oriented television show that airs monthly on the History Channel and weekly on the ION Network. NewsWatch regularly features top technology products, unique and beautiful travel destinations, health tips, medical breakthroughs, and entertainment news on the show. A recent addition to NewsWatch, AppWatch is a weekly segment that provides viewers app reviews and game reviews of the latest and hottest apps and games out on the market for iOS and Android devices.
The show airs in 180 markets nationwide as well as all of the top 20 broadcast markets in the country, and is the preferred choice for Satellite Media Tour and Video News Release Distribution.
For more information or to watch the latest app reviews featured on the show, head to http://www.NewsWatchTV.com/appwatch.html.