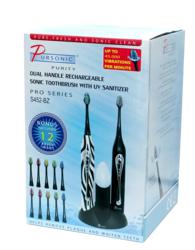 (PRWEB) April 22, 2013
NewsWatch, a national television show, recently reported on the tooth decay epidemic among children and adolescent, and offered an affordable and effective electric toothbrush by Pursonic as a means of maintaining strong oral health. Scott Steinberg, a national tech expert, hosted the segment.
Maintaining proper oral care is crucial to a child's health, particularly when taken into account that tooth decay is reaching epidemic levels among children and adolescents. But they're not the only ones – adults need to take care of their teeth as well.
According to an American Dental Association survey, most dentists recommend using an electric toothbrush over a manual one. NewsWatch found a line of rechargeable brushes by Pursonic at this year's Housewares Show that can help fight the epidemic.
The brushes are up to a third of the price of other major brands, but still as effective at keeping teeth and gums clean and protected. The first brush featured on NewsWatch was the Pursonic S320 Deluxe Plus and it comes with 12 additional brush heads. The second brush featured was the Pursonic S452 Dual Deluxe Plus and it has a charging dock that holds two brushes and also has a built in UV Sanitizer that automatically kills up to 99.9% of germs and bacteria on brush heads. The s452 comes with a zebra design on one handle and a black finish on the other. The S320 Deluxe Plus is available for $49.99 and the S452 Dual Deluxe Plus is available for $99.00, and can be purchased at http://www.pursonicusa.com and at leading retailers.
Scott Steinberg is the CEO of TechSavvy Global, a management consulting and market research firm which helps clients more effectively connect, communicate and create lasting value for all audiences. One of the world's best-known strategic innovation consultants and brand consultants, he's a business strategist for Fortune 500 corporations, non-profits, universities and startups.
NewsWatch is a weekly 30-minute consumer oriented television show that airs monthly on the History Channel and weekly on the ION Network. NewsWatch regularly features top technology products, unique and beautiful travel destinations, health tips, medical breakthroughs, and entertainment news on the show. A recent addition to NewsWatch, AppWatch is a weekly segment that provides viewers app reviews and game reviews of the latest and hottest apps and games out on the market for iOS and Android devices. The show airs in 180 markets nationwide as well as all of the top 20 broadcast markets in the country, and is the preferred choice for Satellite Media Tour and Video News Release Distribution.
For more information, head to http://www.NewsWatchTV.com.