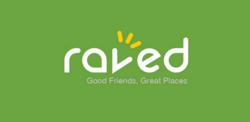 Las Vegas, NV (PRWEB) January 08, 2013
NewsWatch, a national television show, highlighted "Raved", a new app for discovering places based on social recommendations. NewsWatch broadcasted live from the floor of the Consumer Electronics Show with tech guru, Scott Steinberg. Scott will feature the top tech products of the 2013 Consumer Electronics Show.
Raved, a socially-powered local recommendation app lets you discover great places, like restaurants or retail shops, and share them with your friends. The difference between Raved and other similar apps is that it blends existing social signals such as check-ins and likes with "Raves". This combination provides useful and trusted recommendations based on your friends. Raved also works with local celebrities and experts to get their recommendations on hot spots.
Raved is free and available for iOS and android devices. You can visit raved.com for more information or to download the app.
To follow along with the show and watch as Scott Steinberg unveils the latest from The 2013 Consumer Electronics Show, subscribe to the NewsWatch YouTube Channel, Like the NewsWatch Facebook Page, or follow the NewsWatch Twitter feed.
For more information, head to newswatchtv.com.
NewsWatch is a weekly 30-minute consumer oriented television show that airs on the ION Network Thursday mornings at 5:30am across the nation. NewsWatch regularly features top travel destinations, health tips, technology products, medical breakthroughs and entertainment news on the show. A recent addition to NewsWatch, AppWatch is a weekly segment that provides viewers app reviews and game reviews of the latest and hottest apps and games out on the market for iOS and Android devices. The show airs in 180 markets nationwide as well as all of the top 20 broadcast markets in the country, and is the preferred choice for Satellite Media Tour and Video News Release Distribution.
The Consumer Electronics Association (CEA) is the owner and producer of the International CES. CEA is the preeminent trade association promoting growth in the $186 billion U.S. consumer electronics industry. More than 2,000 companies enjoy the benefits of CEA membership, including legislative advocacy, market research, technical training and education, industry promotion, standards development and the fostering of business and strategic relationships. All profits from CES are reinvested into CEA's industry services. Find CEA online at CE.org and Innovation-Movement.com.