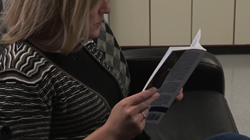 "The Seven Insecurities that Men Don't Want Women to Know significantly helped my relationship with my husband."
(PRWEB) December 12, 2014
"Buzz About Relationships" was featured on NewsWatch as part of its monthly Health Watch, which features the latest health related products and services available to consumers. Susan Bridges, a health expert and host of NewsWatch, conducted the review and shared with viewers how it is an insightful resource to help couples, focusing on the subject of male insecurities.
A new book spawned from the website BuzzAboutRelationships.com covers the subject of male insecurities, which is something that every males has. The book is titled "Seven Deep Insecurities Men Don't Want Women to Know" and it was written as a memoir of the author's husband, from his struggles with manhood throughout his youth and adult life.
The book speaks in depth about the husband's own insecurities that other males have such as pride, negative thinking, or making less money than a partner. The website itself boasts hordes of relationship information to help couples through tough times or to strengthen relationships that are already strong.
"Seven Deep Insecurities Men Don't Want Women to Know" is a personal coach for relationships. The book itself is available online at Barnes and Noble, Amazon, and Lifeway. The soft copy of the book is available for $11.99, the hard copy is available for $28.95, and the E-reader copy is only $8.99.
To learn more, visit http://www.BuzzAboutRelationships.com.
About NewsWatch
NewsWatch is a weekly 30-minute consumer oriented television show that airs on the History Channel, FYI Network, and ION Network. NewsWatch regularly features top technology products and services, mobile applications for iOS, Android, and Windows devices, unique and beautiful travel destinations around the world, health and medical tips, and entertainment interviews on the show. NewsWatch airs on the History Channel at 6:00 – 6:30 AM ET/PT and on the FYI Network from 7:00 – 7:30 AM ET.
NewsWatch is located in the greater Washington, DC area and has been on air for over 25 years. For more information or to watch the most recent episode, visit http://www.newswatchtv.com/healthwatch.html.