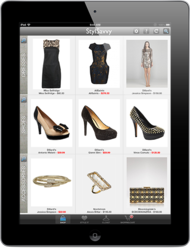 Las Vegas, NV (PRWEB) January 10, 2013
NewsWatch, a national television show, highlighted "StylSavvy", a new app for organizing your closet and shopping online. NewsWatch broadcasted live from the floor of the Consumer Electronics Show with tech guru, Scott Steinberg. Scott will feature the top tech products of the 2013 Consumer Electronics Show.
Technology today is consistently aimed at the male audience, but StylSavvy is every woman's dream. StylSavvy is free and it's the ultimate iPad app for shopping and organizing your closet. StylSavvy fundamentally transforms the shopping experience online by replicating the emotion that a consumer feels when they shop in a physical store. The app uniquely combines products from leading retailers and brands in a way that captures how women naturally shop for clothes.
StylSavvy was developed by founder, Rebecca O'Dell who loves fashion, but found it difficult to visualize outfits while shopping online. The main challenge is that merchandise is presented online in categories (dresses, tops, bottoms, shoes, accessories) and each category is presented separately. Therefore, Rebecca bought items she liked, but often found her new purchases did not coordinate with pieces she already owned. StylSavvy solves this problem with a design that is based on the phases women naturally go through when organizing their wardrobes: shopping, styling, organizing, and buying.
For more information or to download the app today head to StylSavvy.com.
To follow along with the show and watch as Scott Steinberg unveils the latest from The 2013 Consumer Electronics Show, subscribe to the NewsWatch YouTube Channel, Like the NewsWatch Facebook Page, or follow the NewsWatch Twitter feed.
For more information, head to newswatchtv.com.
NewsWatch is a weekly 30-minute consumer oriented television show that airs on the ION Network Thursday mornings at 5:30am across the nation. NewsWatch regularly features top travel destinations, health tips, technology products, medical breakthroughs and entertainment news on the show. A recent addition to NewsWatch, AppWatch is a weekly segment that provides viewers app reviews and game reviews of the latest and hottest apps and games out on the market for iOS and Android devices. The show airs in 180 markets nationwide as well as all of the top 20 broadcast markets in the country, and is the preferred choice for Satellite Media Tour and Video News Release Distribution.