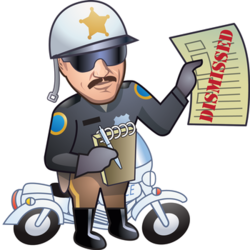 Washington, DC (PRWEB) February 25, 2013
NewsWatch, a national television show, highlighted "Ticketbust", an online service that specializes in getting speeding tickets and moving violations dismissed in the state of California.  The segment was highlighted by host Andrew Tropeano on AppWatch, a weekly segment of NewsWatch dedicated to finding new and cool apps on the market.
Nearly all drivers in the United States frequently drive above the speed limit. California is no exception, as it's one of the top five most ticketed states in the country. And because it's such a common experience, a California company has started helping drivers successfully contest and dismiss traffic tickets in the state of California. The company is TicketBust.com and they're an authoritative expert on fighting traffic tickets. NewsWatch caught up with the team and decided their services were worth featuring on the show.
For anything from red lights and speeding tickets to cell phone tickets, TicketBust.com has helped over 40,000 people and contested over 75,000 tickets. They also have a free mobile app for iOS and Android that lets you find speed traps, look up your driving record, and fight traffic tickets – all from a mobile device.
Ticketbust can help contest nearly all traffic tickets, but they only work with citizens that were 18 years or older and had a valid driver's license at the time ticketed in California. The ticket must be for an infraction, not a misdemeanor.
To get started, head to http://www.ticketbust.com and sign up for a consultation.
NewsWatch is a weekly 30-minute consumer oriented television show that airs on the ION Network and History Channel. NewsWatch regularly features top tech products, travel destinations, health tips, medical breakthroughs and entertainment news on the show. A weekly segment on NewsWatch, AppWatch provides viewers app reviews and game reviews of the latest and hottest apps and games out on the market for iOS and Android devices. The show airs in 180 markets nationwide as well as all of the top 20 broadcast markets in the country.
For more information, head to http://www.newswatchtv.com.