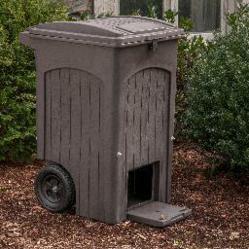 (PRWEB) April 30, 2013
NewsWatch, a national television show, recently reported on the environmental and economic benefits of composting. As part of the segment, NewsWatch featured the Toter Composter as its recommended consumer composter.
As spring continues and the summer months approach, many home owners turn their attention to bringing their garden and lawn back to life. For those who enjoy gardening and have a do it yourself spirit, NewsWatch featured a composter by Toter that should be a home staple. It's the Toter Composter and it's a simple and cost effective way to repurpose food and yard waste by turning it into nutritious plant feed.
Many compost users have dealt with traditional tumbler-style composters before and know how difficult they can be to use. The Toter system is completely different. It's a brown outdoor bin with wheels and uses an internal aeration chimney to feed air into the mixture. This design allows users to continuously feed their brown and green waste into the unit, rather than waiting until one batch of compost is complete. And unlike traditional tumbler-style composters, the Toter Composter comes ready to use right out of the box. It also includes a countertop unit for gathering food waste from inside the house.
For those that have never composted before – the bin has a recipe list on the front that keeps the process simple. The Toter Composter is incredibly easy, affordable, and eco-friendly and is currently available at HomeDepot.com. To learn more about it, head to totercomposter.com.
NewsWatch is a weekly 30-minute consumer oriented television show that airs monthly on the History Channel and weekly on the ION Network. NewsWatch regularly features top technology products, unique and beautiful travel destinations, health tips, medical breakthroughs, and entertainment news on the show. A recent addition to NewsWatch, AppWatch is a weekly segment that provides viewers app reviews and game reviews of the latest and hottest apps and games out on the market for iOS and Android devices. The show airs in 180 markets nationwide as well as all of the top 20 broadcast markets in the country, and is the preferred choice for Satellite Media Tour and Video News Release Distribution.
For more information, head to NewsWatchTV.com.