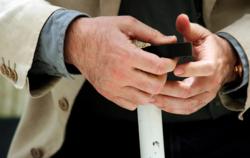 "Larger or complex documents are still often easier to review on paper, and many still see the printed document as the safer form of back-up, and some even feel it is more binding – though legally that is not necessarily the case." ~ Gary Peterson
Minneapolis, Minnesota (PRWEB) July 31, 2012
Barry Diller, chairman and chief executive at the conglomerate IAC, says, "The transition will happen. I'm not saying it will happen totally but the transition to online from hard print will happen." Last Wednesday, several forms of media jumped to quote him as saying, "that it is inevitable that longtime weekly news magazine Newsweek will go digital only, and that plans for the beginning of that shift will be announced as early as September".
Two days later, Newsweek's Tina Brown has sent a notice to staff clarifying the statement saying, "Barry Diller would like to make it clear that he did not say on the earnings call as reported that Newsweek is going digital in September. He made the uncontroversial, industry-wide observation that print is moving in the direction of digital."
A long standing published print edition for liberal voices, Newsweek's years of rearranging and refocusing efforts to improve the print magazine's reach seem to have fallen short of budgetary goals. Stinging headlines in May ran across the globe in response to it's promiscuous cover, with some readership declaring their intentions to stop reading the magazine. Owner and old-school media provocateur, Brown seems to boldly ask for shock and reaction to bolster marketing attention.
Eric Sims, owner of Integral Media, wonders if the issue is in part about the magazine's content and marketing choices rather than diminishing the value of print media. While "print moving in the direction of digital" is held out in a recovery statement, prints death has been greatly exaggerated.
Have you ever noticed how quickly digital media can go in a junk folder? There is something unshakable to be said about actually holding a book or piece of literature in your hands versus staring at a monitor or screen for hours. Print media will always own a place in this world. Print and digital may vie along together, with any interest area preferring to deliver nicely designed print magazines for those interested.
Others predict that new venues for mobile and tablet printing may mean digital is the savior of print media. In a recent article titled, "How IT consumerization is driving anytime, anywhere printing" HP offers three top trends that are driving the high acceptance of mobile printing:

Mobile device proliferation
mobile workforce numbers are rapidly increasing
cloud computing trending higher
If hard copy magazines in the U.S. are to follow Europe's trends, like the fashion industry, then even on-line brands will continue to determine that print is an ideal way of gaining a marketing edge. A survey in April by Deloitte found that "88% of magazine readers in the UK still prefer to consume articles via print. While half of respondents to its state-of-the-media survey (2,276 UK consumers, aged 14 to 75) owned a smartphone, 35% subscribed to at least one printed magazine in 2011".
Furthermore, the survey revealed that, "Despite a sharp rise in the number of tablet devices in the UK, online magazine subscriptions remained flat at just 2 per cent. Seven per cent of respondents said they preferred to access magazine content via a laptop or PC and the remainder opted for the tablet or smartphone."
On June25th, Frédéric Filloux, manager of the French ePresse consortium said, "Digital formats are faltering. Display advertising is spiraling down due to well-known factors: unlimited inventories, poor creativity, excessive discounts, bulk purchasing, cannibalization by value killing ad networks, etc. Behavioral targeting is technically spectacular but people get irritated by invasive tracking techniques."
Diller told analysts that Newsweek is struggling with the cost of "manufacturing" a weekly. Reuters reports, "ICA has had to reassess its original valuation of Newsweek when it formed a joint venture with the late billionaire Sidney Harman in November 2010. ICA's quarterly profit was hurt by an after-tax, non-cash charge of $16.2 million, or 18 cents a share, from a write down in the value of its stake in Newsweek Daily Beast after it bought a controlling interest in the business.
Contact Integral Media at 952-470-5254 for business success placing magazine advertisements and mufti-media services.