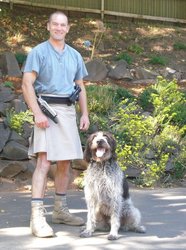 Mcminnville, OR (Vocus) July 30, 2010
Iain Harrison, of New Energy Works Timberframers takes center stage in the History channel hit show, Top Shot. The show pits 16 of America's most skilled marksmen against each other, testing their sharp-shooting skill, from pistols and rifles to long bows and knives. Will this timber framer win the title of Top Shot and take home the $100,000 prize?
Iain beat out thousands of other aspiring contestants to land one of 16 spots on the competition television show, Top Shot. This British-born marksman moved to the U.S. in part to pursue his love of shooting. He served as a recon platoon commander in the British Army and has shot everything from service small arms to 120mm anti-tank missiles and 30mm cannons. When you're a member of one of the foremost construction companies in the U.S., practical skills are a given and so as an amateur gunsmith, he even machines his own steel and aluminum on a milling machine and lathe. He placed second in Trooper Class in the 2009 and 2010 MGM Ironman multi-gun competitions, using firearms he made himself. By profession, Iain is a timber framer. In 2008, Iain relocated from New York to Oregon to open and manage New Energy Works Timberframers western facility. Iain sits on the Board of Directors for the Timber Framer Business Council.
With seven contenders already eliminated and just three episodes left, competition is starting to heat up. Iain took center stage in episode four with a risky, but strategic play that showed his leadership and shooting skills by winning the elimination challenge. Now, having made it through the seventh episode, Iain is proving he's there to win. Tune in Sunday nights at 10pm ET or watch the episodes on history.com. If you're on the west coast you can meet Iain in person at a New Energy Works timber frame raising, at the timber frame shop or The Vermont Street Project in Portland, Oregon. For the latest updates visit New Energy Works on facebook.
New Energy Works designs and builds environmentally responsible timber frames across the USA from their Oregon and New York facilities. The company offers Timber Framing (design, engineering, manufacturing, build), Enclosure Systems, Fine Woodworking, Recycled and Sustainable wood products. The company uses 100% wind power, and heats its shops with scrap wood. New Energy Works has 2 LEED AP staff members, is a member of the US Green Building Council, and is FSC Certified in three categories.
###