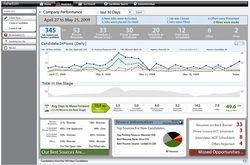 Newton was conceived, designed, and built from the ground-up with a driving motivation on our part to one day offer our clients the kind of robust analytics features that organizations need to be competitive
San Francisco CA (PRWEB) August 12, 2009
Newton Software, a provider of intuitive, applicant tracking software, announced the debut of Newton® Analytics, a powerful reporting platform that will enable organizations to quickly analyze large volumes of real-time data and make rapid hiring decisions using powerful visualizations.
As the first of several planned releases of highly-interactive analytics technologies for recruiting, Newton® Analytics arms its users with core capabilities to aggregate, surface, and deliver actionable intelligence for every constituent involved in hiring. This new release positions Newton as the only applicant tracking solution that supports meaningful performance-monitoring capabilities.
The launch of Newton® Analytics comes as a timely offering because corporate recruiters and human resources professionals are working harder than ever to tighten up their recruiting efforts. In 2009, it's become a common expectation for human resources professionals to be able to do a lot more with a lot less, as executives struggle to keep their operations lean while navigating dynamic times.
"Newton was conceived, designed, and built from the ground-up with a driving motivation on our part to one day offer our clients the kind of robust analytics features that organizations need to be competitive," said Steve Hazelton, Newton Software's CEO.
Hazleton went on to discuss the pitfalls of other recruiting solutions: "No matter how many bells and whistles you get, nearly all of the popular recruiting software systems in the market today struggle to provide their users with the most fundamental insights in hiring: Where do we have bottlenecks? Can I course-correct before it's too late? Is everyone involved in the recruiting process doing their part? Am I spending money on the right resources?"
The first release of Newton® Analytics answers these basic questions and more, with new capabilities that empower organizations to rally around smarter, more efficient recruiting practices. "Newton® Analytics will improve the bottom line, allow employers to do more with less, and ready them for the future," Hazelton concluded.
John Delaney, Newton Software's product manager, elaborated on the software's real-time intelligence capabilities: "Newton Analytics makes it easier than ever to monitor recruiting performance and immediately diagnose areas that need improvement. The power of real-time intelligence attached to recruiting is a huge step forward for employers that want to get the most out of tight hiring budgets."
Newton® Analytics empowers corporate recruiters and human resource professionals to select from a variety of meaningful recruiting metrics. There are several metrics and features that notably set Newton® Analytics apart from competing solutions:

Executives can slice, sort, visualize, and manipulate large sets of hiring data in an easy-to-use dashboard that will enable them to quickly spot trends, identify and act on important issues, and even drill down to specific data points, all from a single web page.
Human Resources departments can enjoy highly-effective staffing meetings without ever needing anyone to track and print their individual recruiting activity. In a couple seconds, Newton can create and present all the hiring data a staffing meeting supervisor will ever need.
All users can monitor stage-to-stage interviewing performance, an often overlooked but critical element to successful hiring and a key component to determining accurate time-to-fill metrics.
Newton goes beyond typical reporting systems by highlighting missed opportunities, such as unscheduled phone interviews or declined offers, and provides the user with answers to why these events were missed (often creating insights in how to avoid them in the future).
By implementing automated candidate source tracking, employers can clearly see what sources are delivering their applicants all the way through the hiring process, making it easy to determine the ROI of all recruiting channels.
About Newton Software:
Newton Software is a leading provider of on-demand applicant tracking and recruiting software solutions for organizations of all sizes. Newton® delivers an easy to use, fast-to-deploy and affordable solution for creating, managing and improving corporate recruiting programs with no hardware to buy or software to license. For more information, please feel free to visit our website or contact us.
Contact:
Newton, Inc.
415-593-1192
http://www.newtonsoftware.com
# # #