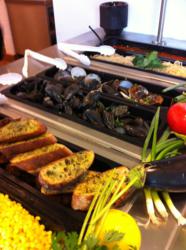 This is the best lunch I've ever had!
Islandia, NY (PRWEB) May 24, 2013
On May 22nd, Newton North High School hosted a very special "Guest Chef Day", featuring fresh products sourced from local vendors. Chef Rich Sandmann from Whitsons School Nutrition and April Liles, Food Service Director at Newton School District, created a wholesome menu using ingredients from the following local Newton and Watertown establishments: A. Russo & Son's Fruit & Vegetables from Watertown, MA; Steamers Seafood Market from Newton, MA; and Keltic Krust Bakery from Newton, MA.
The delectable menu included dishes for all tastes and preferences, such as chilled mango and cucumber soup; delicious fresh fig, arugula, prosciutto and balsamic glaze Panini; San Francisco style seafood Cioppino over pasta with scallops; fresh Marguerita Apizza; streetcart-style carnita tacos, carne asada with tortillas, falafel and hummus, etc.
The event was a great success. The students and staff were very pleased with the menu, so much that one of the students expressed out loud "This is the best lunch I've ever had!"
This initiative demonstrates the Newton school community is committed to promoting local foods. The main goal is to provide the very best produce the region has to offer, fresh from farm to fork, and to support local businesses.
The Guest Chef Going Local event at Newton North High School is part of Greenleaf Cuisine, Whitsons' local produce initiative. Whitsons School Nutrition is committed to supporting local farmers by sourcing produce locally whenever seasonally available.
About Whitsons School Nutrition
Whitsons Culinary Group provides a wide range of highly customized dining services to public schools, corporations and institutions, with a strong focus on nutritious, high quality menus made from fresh, wholesome ingredients. Whitsons has a long and proud history of excellence and growth since 1979 and currently ranks the 18th largest dining company in the United States (Food Management magazine, September 2012). Whitsons' scope of ¬¬expertise and services extends to: emergency dining, residential and healthcare dining, prepared meals, and school dining and services.