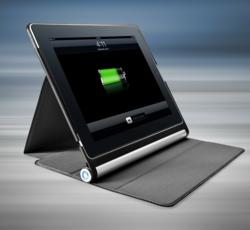 Las Vegas, NV (PRWEB) December 13, 2012
Sleek new battery charger, carrying case and keyboard designs from Fremont, CA-based New Trent are being showcased at CES booth #4437, offering a glimpse of how usability accessories are being shaped around the consumer tablet and smartphone experience.
New Trent is an established supplier of OEM power solutions to top device manufacturers that entered the accessory market in 2008 with their own line battery packs, protective cases and keyboards. Since then, the company has innovated a line of sleek-looking products like the iZen® ($129 retail) that integrates a removable Li-ion battery with a polycarbonate case and adjustable smartcover and the Grabbit® ($35 retail) that fuses a protective case with a 360-Degree rotating leather grab handle.
New Trent's new Airbender® clam-shell case for the iPad($64 retail) integrates an ultra-low profile Bluetooth keyboard with a fully-adjustable stand for vertical and horizontal positions exemplifies the company's philosophy of functional, sleek design that enhances the Apple® user experience.
New Trent's popular mobile device chargers are noted for providing double the mAH (milli amp hour) rating as their competitors—12,000 mAH vs. 6,000 mAH, providing double the run time for devices powered by New Trent.
In total, eight new never seen before battery products are being launched at CES 2013, on top of showcasing their current top-sellers. New Trent now offers over 20 chargers, power supplies, keyboards and cases that can be used with a long list of mobile devices, gaming devices, GPS units and other portable accessories.
New Trent, Inc. CES Booth No. 4437 Located at the North Hall iLounge area. For product trials and CES demo, interviews, and exclusive previews, contact: Johnson Jeng, Vice President of Marketing at Johnson.jeng(at)newtrent(dot)com or (408) 931-5000. Website: http://www.newtrent.com.