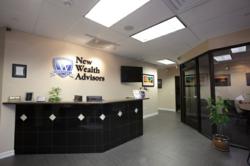 "Working with NWAC was such a great blessing...." Pastor Mike Gann, Calvary the Cross Church
Riverside, CA (PRWEB) October 19, 2012
A community-based organization, New Wealth Advisors Club, is committed to making a difference in people's lives. Having just celebrated the massive expansion of their offices, (click here for article on yahoo.com) the club is always looking for ways to give back. The real estate investment club strives to always create win-win solutions for homeowners in this present economy. The real estate market has been a huge blessing to many of the individuals involved in the club. As such, the group is dedicated to helping others with a true pay it forward mentality.
Last year, the group had a can food drive. The goal was to fill one Toyota truck bed full of food. In true New Wealth Advisors fashion, they were able to not only fill three truck beds, but also the cabs of all three trucks and an additional SUV! It was amazing.
The group worked closely with a local Christian church, Calvary the Cross. The church provides food monthly to several families in need in the Riverside area. Pastor Mike Gann was quoted last year, "Working with NWAC was such a great blessing! Many people's lives were blessed and hearts were touched. I thank God for my great friends and partners at New Wealth Advisors Club. Thank you Dave and Melina for creating an amazing opportunity for all of us to impact others. " See pictures of full trucks: http://newwealthadvisorsclub.com/blog/holiday-food-drive/
This year the group has decided to up the ante. The club is once again working with Calvary the Cross to exceed last year's food drive! The goal this year is to DOUBLE last year's food donations. To jump start their efforts, founders, Dave and Melina Boswell contacted their local Chik-Fil-A in Corona to do a spirit night on October 20th, 2012 from 5pm-8pm.
This is a phenomenal opportunity that Chik-Fil-A offers. They donate 20% of the gross sales that NWAC brings in during these hours. New Wealth Advisors Club has pledged to match 100% of whatever Chik-Fil-A donates! The entire amount will then be given to Calvary the Cross, to go grocery shopping for families in need of food. New Wealth Advisors Club, Calvary the Cross and their friends and family are planning to show up in massive force and have a time of fellowship and thanksgiving while blessing others.
"In a world where we have so much, its terrible that we have local families going to bed hungry. We can do so much more. Melina and I are thankful for everyone coming out to support something bigger than us. It's a small token of our appreciation for all we have been blessed with."
New Wealth Advisors Club is a local group of real estate investors. Their mission statement:
New Wealth Advisors Club is a group of people committed to empower and encourage all people to realize their core purpose in life. With this realization, we believe everyone can live an inspired life – full of enthusiasm – as they in turn inspire others.
Donations for the food drive are always accepted year round. Give the office a call and make arrangements to drop off items during business hours. The club is always looking for positive, motivated individuals to help expand the organization. Anyone having a desire to get into a club of investors having success in this economy should call the organization directly.