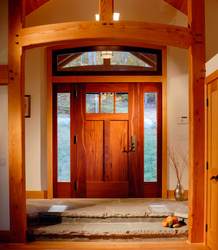 Our ability to bring our customers' visions to life using extraordinary materials has allowed us to expand our door group and feed more projects into our cabinetry and stair groups as well
Shortsville, NY (Vocus) July 27, 2010
NEWwoodworks fine woodworking has built a reputation as the 'go to' shop among designers and architects for taking on challenging, one-of-a-kind, custom doors for grand entrances, barns, garages, and interior rooms. Unlike commodity doors, every door is hand crafted using antique (often 200 years old) and sustainably harvested wood by skilled craftsmen and sophisticated design software in the Company's shop in Upstate, NY.
"Our ability to bring our customers' visions to life using extraordinary materials has allowed us to expand our door group and feed more projects into our cabinetry and stair groups as well," says Rob D'Alessandro, division manager of NEWwoodworks. "Our doors are a unit, as opposed to two or three separate pieces created by stock manufactures."
The craftsmanship and high quality can be felt and seen as interior doors are solid wood, and exterior doors are often over two inches thick. Exterior doors are built around a stave-core with full shop drawings and hardware specs accompanying the project in the shop. "Using a stave-core creates a stable door and allows us to veneer the face (with 5/16 inch thick antique wood veneer) of the door giving us better grain match, higher yield on the reclaimed material and a door that better resists warping and twisting," explains D'Alessandro. High performance glass units and insulated raised panels join the stave-core in ensuring high efficiency of exterior doors.
Reclaimed antique wood is known for character which can range from nail hole marks, to worm trails, to original saw marks, hand lathe marks, tight grain patterns and more. NEWwoodworks creations allow the beauty of the woods former life to show through. "Not only does antique wood offer truly one-of-a-kind creativity in woodworking, it has more stability, deep patina, character and history not found with fresh sawn wood," continues D'Alessandro. The wood used is reclaimed from barns, factories and warehouses or pulled from river beds. All is primarily sourced by NEWwoodworks sister company Pioneer Millworks.
NEWwoodworks is the fine woodworking division of New Energy Works Timberframing and sister company of Pioneer Millworks of Farmington, NY. They design and craft custom doors, fixtures, stairs, railings, cabinetry, furniture and more from their eco-friendly shop for residential and commercial projects, specializing in the use of reclaimed and antique wood.
###